At a Glance
Expert's Rating
Pros
Skin tones on glossy paper are realistic
Low black-ink cost
Very fast
Cons
Input trays are flimsy
Plain-paper print quality is grainy
Our Verdict
Epson's Artisan 810 color inkjet multifunction printer has speed and versatility to spare. Considering the price, however, we expected better overall output quality.
Though the Artisan 810's text-printing speed was just average at about 7.3 pages per minute, it finished at or near the top in all of our other print, scan, and copy speed tests. The output quality was less stellar. On Epson's own photo paper, flesh tones looked warm and natural. On plain paper, all photos had a filmy look. Plain text looked fuzzy and dim. Scans and copies were acceptable despite some general fuzziness; a photo enlargement looked murky.
Since you'll need to buy special paper to get better output results, it's nice to know that the ink costs for the Artisan 810 are average or better, especially compared with the sky-high ink prices for Epson's WorkForce product line (we've reviewed the WorkForce 600 [ ]). The Artisan 810 comes with standard-size inks: a 545-page black cartridge, plus 500-page cyan, light cyan, magenta, light magenta, and yellow cartridges. Replacements cost $17.09 for black (3.1 cents per page) and $10.44 for each color (2.1 cents per page). A page with all six colors would cost 13.6 cents. Epson sells high-yield, 855-page cartridges for all but black; they cost $16 each, or 1.9 cents per color, per page.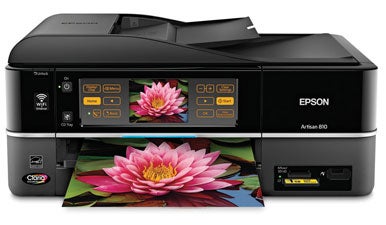 The Artisan 810 is mostly easy to operate. The 7.8-inch, touchscreen control panel includes a 3.5-inch color LCD and has context-sensitive LED buttons that light up as needed. The panel angles upward easily, but releasing it requires fumbling for the unlabeled lever underneath. The touchscreen does not feature a keyboard feature, but rather makes you scroll through individual letters, making things like typing in your network internet password a pain. Two media card slots support CompactFlash, Memory Stick, SD Card, and XD-Picture Card, and the machine has a PictBridge port. USB, ethernet, and wireless connections are available.
The Artisan 810 can print through a USB cable as well as wirelessly, and your Mac will distinguish between a wire or wireless connection by recognizing two different printers. If you want to add your printer through System Preferences and your Artisan 810 is connected through a USB cable, it will be labeled Artisan 810. When we searched for our printer through a wireless network connection however, it was labeled Epson 76703D, for some reason, causing some confusion. When you print, you must be mindful how your Mac connects to the Artisan, and choose accordingly each time.
Wireless scanning can only be done through the computer, using software like Image Capture. You can use Epson's own software to wirelessly scan through the computer too, but accessing and enabling it to recognize the Artisan 810 is hidden under the Utilities folder. After going to Utilities, you will find an app named Epson Scan Settings. Open the app, select "network," and press Add to open another window that'll allow you to choose your Artisan 810 scanner by selecting your network's IP address. Unfortunately, you cannot wirelessly scan directly from the Artisan 810.
Paper handling is a mixed bag. The Artisan 810 supports automatic duplex printing, as well as printing labels on specially coated CD/DVD media using an included tray. The 30-page automatic document feeder handles legal-size paper, too. On the downside, the paper trays are universally flimsy and inconveniently designed: The 120-sheet main input has a removable lid that doubles as a photo-paper tray (up to 20 sheets of 5-by-7-inch paper), and you can't load the input trays unless you retract the three-panel output tray that covers them.
Macworld buying advice
The many premium features of the Artisan 810 are appealing, and its ink costs are affordable. We also like the duplexing feature, which is a great way to cut paper costs. Unfortunately, the interface for the touchscreen can prove quite a drag and the pricey photo paper the Artisan 810 requires for the best output quality is disappointing since the machine itself costs so much.
[Susan Silvius is a freelance contributor. Lynn La is a contributor to Macworld Lab.]