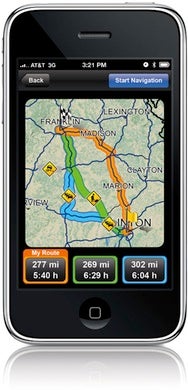 If you demand more from your GPS turn-by-turn directions app than simply finding the way to your destination, Navigon will oblige this spring when it releases the latest update to its MobileNavigator iPhone app (which, as you might recall, was one of the top-rated entries in our recent roundup of navigation apps). In addition to all the standard features you know and love from earlier iterations, version 1.5.0 will add three major new features: In-App Social Media, MyRoutes, and Panorama 3D.
For the plugged-in set who want to let their friends know where they are without having to call each and every one, In-App Social Media allows you to post your current position, your destination, and your estimated time of arrival to Facebook or Twitter, all with a simple tap of a button—and all without leaving the application.
If driving optimization is more your speed, MyRoutes (pictured) can help by providing customized routes based on your individual driving data. It presents you with up to three options for routes, based on information like the time of day, day of week, and your driving habits, and then gives you distance, ETA, and an overview of the route on the map.
Finally, what's the fun of an update if doesn't include some shiny new imagery? Panorama 3D uses information from NASA's height and terrain database to provide a rendered 3D version of your surroundings, complete with shadows, geographic images, and elevations. Though Panorama 3D works without using the phone's data connection, the feature isn't included directly in the 1.5.0 update, but rather available as an in-app purchase for $10.
MobileNavigator North America is normally available in the App Store for $90, but you can snag it for the cheaper price of $70 until February 15th. The 1.5.0 update will be free to current owners of the software. (Versions for other locations are available at a variety of price points between $50 and $140.) The software works with the iPhone 3G or 3GS's built-in GPS systems; it also runs on an original iPhone or an iPod touch, but you'll need add-on GPS accessories to use it.
Update: Clarified that while MobileNavigator 1.5.0 was announced today, it is not being releases until this spring.