At a Glance
Expert's Rating
Pros
Integrates with Basecamp
Supports several online payment options
Import existing client data in CSV format
Cons
Some features incomplete, poorly designed, or buggy
Limited documentation
No export option for financial data
Timer does not send data to application
Our Verdict
Of the several online invoicing and accounting applications I've reviewed recently (which includes Ballpark [ ], FreshBooks [ ], and The Invoice Machine [ ]), BillingOrchard is by far the least flashy. Aimed at freelancers and small business users, BillingOrchard offers an interface that eschews fancy graphics and clever formatting for a basic, no frills interface. No frills isn't necessarily a bad thing, but with BillingOrchard "no frills" sometimes goes hand-in-hand with "lacks polish," which can make this Web app more difficult to use than it should be.
BillingOrchard offers a standard set of tools and features for online client management/billing apps and is broken into five major areas:
Account Settings, where you change your company's setting and preferences.
Client Management for adding and editing clients and creating projects.
Set Defaults, for setting hourly service rates
Submit Charges for adding and approving employee hours and importing BaseCamp hours.
Invoices for creating customer invoices, sending out statements, and receiving payments.
Like most Web-based apps of this ilk, BillingOrchard is not a business accounting application; you need to use another application to handle your accounts payable and receivable. You'll also need to find a simple way to get your BillingOrchard A/R data into your accounting application. Unfortunately, that's a bit of a sticky wicket, as BillingOrchard offers no apparent way to export your account information so that you can import it onto your accounting app. The company says its application can export invoices, payment transactions, client data, and recurring fees, among other data; I simply could not find those features during my testing.
BillingOrchard offers you some basic customization capabilities, giving you custom fields for each client and offering you the option to add customized information to invoices, introduction, and default e-mail templates. There's not really a lot to tweak here, but there are some basic options you can change. For additional fees you can also accept customer payments using Authorize.net, FirstData, PayPal, or your own third-party payment service, and you can open your own help desk ticket tracking system.
What BillingOrchard does well is ease the setup process by letting you import existing client information saved in a CSV format. It also offers you the option of linking your BillingOrchard account with the Web-based Basecamp project management application. When linked with Basecamp, BillingOrchard automatically pulls in all the time entry information from your active Basecamp projects. Unfortunately, BillingOrchard provides about as much information on how to use any of these features as I've provided in the last sentence. That brings up one of BillingOrchard's greatest shortcomings: documentation. BillingOrchard's documentation features an FAQ page with 24 entries, some of which are answered in a single sentence. Yes, I am well aware of the dictum, "brevity is the soul of wit," but the brevity here often provides too little detail and instead left me feeling witless. The company says that every form and screen provides detailed documentation in real time while users perform a specific task; in my testing, though, this was not readily apparent or helpful.
BillingOrchard has some other basic shortcomings that, for me, render the app nearly useless. For example, under the Tools section there's a project timer for tracking time on specific projects. But I found that if I accidentally clicked the timer's start button more than once, it tracked time at double the pace. If I continued clicking, the minutes, and eventually the hours, began passing like seconds. Furthermore, once I completed timing a project, there was no way for me to link that time to an existing client or project.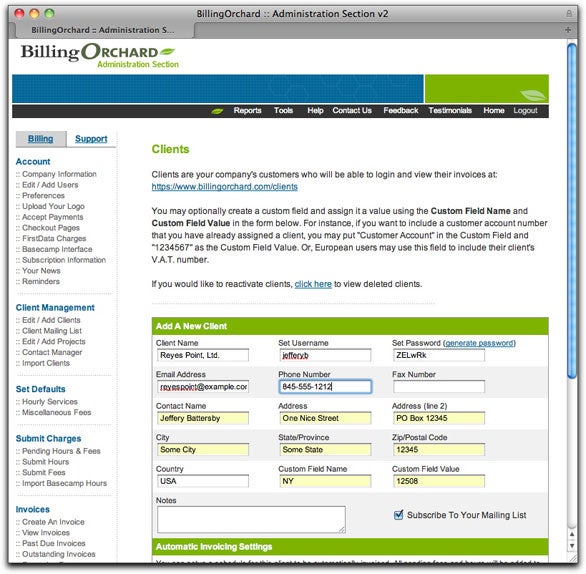 Macworld buying advice
BillingOrchard offers some basic and occasionally useful features, but lacks what so many other, more mature, better looking Web-billing apps offer. Better timing tools that integrate with the rest of the application, complete documentation, and some way to export billing data for import into an accounting application would go a long way toward making BillingOrchard a viable choice as your web-based billing and invoicing application.
[Jeffery Battersby is an IT consultant, (very) small-time actor, and regular contributor to Macworld. He writes about Macs and more at his blog. jeffbattersby.com.]
Editor's Note: This review has been updated since publication to clarify points about documentation and exporting. These changes did not alter our rating of Billing Orchard.