If you're outside Moscone Center for this week's Macworld Expo, and someone hands you a "Lost iPhone" sticker, don't toss it away. It could help you track down your phone, should it ever go missing.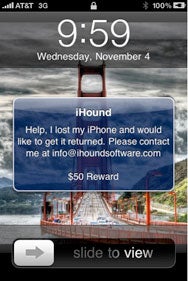 The stickers, from iHound Software, go on the back of the iPhone or the phone's case. They feature a unique ID number so that anyone who finds a misplaced phone can go to iHound's Website and punch in the nine-digit number along with a message to the phone's doubtlessly frantic owner.
"We believe most phones are lost, not stolen," Gary Moskoff, one of the founders of iHound Software told me Monday, as we talked about his company's mobile security offering.
Of course, to take advantage of that lost sticker, you've got to use the iHound app for the iPhone. But iHound has an Expo-timed special there too: for the month of February, the app—normally a $3 download—is available for free. (After the 10-day trial period, you'll still have to pay a recurring service charge, which Moskoff says costs less than $1 a month.)
iHound takes advantage of the iPhone OS's support for push notifications to help you track down a missing phone. When you lose your iPhone or iPod touch, you can send it a notification via iHound's Website. The notification can feature a message as well as a customized sound that plays for a full 30 seconds at maximum volume. Activating an idle phone after such a notification launches iHound, which ten transmits your phone's location to the iHound server.
"More people are getting smartphones," Moskoff said. "It's our responsibility to remind people that as you put more data on your phone and integrate it into your lifestyle, you want to protect your phone and your data."
These are busy times at iHound, which just hired a full-time customer service rep in response to user requests for more prompt service. iHound is also working on a Website redesign and has a second product coming out in a few months. It's also planning to bring the iHound service to more smartphone platforms.