Uno is one of the most famous card games around. Everyone from your grandmother to your little sister has played this timeless classic and now, thanks to Gameloft, you can take it with you wherever you go.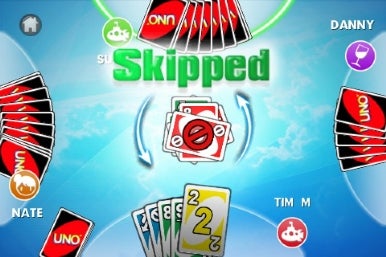 The goal in Uno is to get rid of all the cards in your hand before your opponents can accomplish the same feat. You throw down cards that are the same color or number as what's in the discard pile. Of course there's Skip, Draw 2, Color Change, and all the other cards you remember from Uno games you spent gathered around the kitchen table. Everything about the game has been faithfully preserved, right down to challenges and calling Uno when you're down to one card. There's the option to play by the classic rules or include things like "7-0" where any time a player plays a 7 or a 0 hands can be traded. You can also play with the "jump-in"" rule where if someone discards and you hold the exact same card you can jump-in and lay it down.
Uno has four modes of play: Single Player, Local WiFi, Pass-And-Play and Online Multi-Player. Single Player can be played in tournament mode where you compete against computer opponents in increasing levels of difficulty and unlock new backgrounds, icons and other awards. There's also the option of Quick Play for a fast game on the go. The WiFi Multi-Player works great and can accommodate up to four players, but the best is Online Multi-Player mode. You can quickly get online via Gameloft Live and create or join a game as well as see how you stack up against players from all over. Playing online requires a Wi-Fi connection.
Uno can be played in either landscape or portrait mode. Your cards are visible at the bottom of the screen, and you can discard them with a double tap or a tap and drag to the discard pile. There are also pop-up buttons for calling Uno, jumping in or calling challenges. The touch controls work well and the game moves along quickly.
Graphically, everything is colorful, sharp and quite pleasing. Whenever a card is played there's that nice "shoop" sound as well as some cool voice-overs here and there.
Gameloft delivers Uno just the way you remember. Well-polished and fun, the $5 pricetag is a steal considering the cost of the home version of the card game.
[Tim Mercer is a technology enthusiast, graphic designer, and blogger, whose blog, digital-artist-toolbox.com, offers free resources to the digital artist and graphic designer.]