Judging by their growing presence in the App Store, it's clear that barcode scanning apps have struck a nerve with some iPhone users. I recently reviewed RedLaser and found it to be quite useful and fun to use. I thought I would give IDC's $5 Barcodescan Pro a spin next. Unfortunately, I was less than impressed considering that the more reasonably priced $2 RedLaser usually produces superior results.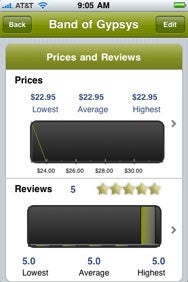 Barcodescan Pro reads bar codes well enough with the iPhone 3GS's camera but it fails miserably on my wife's older 2G iPhone. (The 2G and original 3G models use a lower quality, fixed focus lens.) Even on the 3GS, grabbing a barcode takes a steady hand, and the app is not as responsive as RedLaser, which also works reasonably well with the previous iPhone models. So, if you have an iPhone 2G or 3G, or an iPod touch, forego the $5 Barcodescan Pro and get the free version of Barcodescan, which is identical to the Pro version except that it lacks a scanner. Instead, you type in the UPC, EAN, or ISBN number. (It seems like a misnomer to call a product Barcodescan when it doesn't actually scan anything; on the bright side, iPod touch owners are better able to use the free version of Barcodescan.)
Once you've captured an item, either by scanning the barcode or by typing it in, Barcodescan returns a wide range of information about the product, including its name, photo and description, price ranges, and reviews; you also get Google and Amazon links to the item. While the breadth of data you get is greater than that provided by RedLaser, I don't think the majority of that information is all that useful. For example, why use up limited screen space with a paragraph of product info when the item is most likely already in your hands? If you're an impulse shopper, then the ratings and price range info can be nice to have. But if you're like me, you've already done your research at this point.
Additionally, if you allow Barcodescan to use your device's location info, it displays the location where you snapped the barcode and plots it on a Google map. While sometimes I may want to know that I snapped a barcode at, say, Borders or Best Buy, Barcodescan only displays an approximate physical address. A text field where I could just type in a store's name would be simpler and more useful.
Luckily, the app groups its info within little collapsible widgets, letting you collapse the categories that don't interest you. However, once I've collapsed all the widgets that I find unnecessary, there's not much left to view.
Barcodescan's biggest weakness is its display of comparative prices. RedLaser excels at this by instantly providing a list of Google and Amazon merchants that carry that item, and displaying their prices with links to their stores. (The latest update has added local resources to the list as well.) Producing something similar from Barcodescan requires clicking on a link farther down in the list. However, these links simply provide Google search results or display the product's page on Amazon.com, which isn't nearly as helpful as RedLaser's info.
Like RedLaser, Barcodescan lets you e-mail product and pricing information to yourself or anyone else. Barcodescan also integrates with the iTunes store to help you locate items for sale there.
Despite its shortcomings, I've decided that the combination of Barcodescan and RedLaser is better than either one alone—RedLaser for its awesome scanner and superb comparative pricing, and Barcodescan for those occasions when I need the more detailed product info, ratings or iTunes integration. For that reason, I keep both apps handy on my iPhone.
[Brian Beam is a smart shopper, web developer and partner with BOLD Internet Solutions, living somewhere near Kansas City.]