ZoomMediaPlus has announced the ZoomIt, a dock-connector accessory that lets you use SD memory cards with the iPhone and iPod touch.
The ZoomIt, which is essentially a compact SD-card reader that plugs into the dock-connector port on the bottom of your iPhone or iPod touch, works with its own free iPhone app to let you access documents and media stored on SD cards; for example, photos from a digital camera, video from an SD video camera, or documents transferred from a netbook.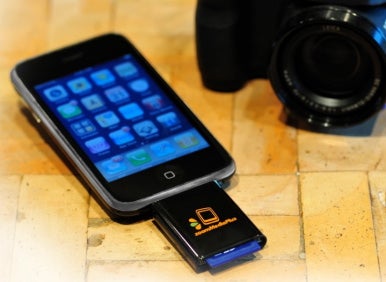 According to the company, the ZoomIt software will let you view any file supported by iPhone OS 3, including images, audio files, video files, and PowerPoint, Excel, Word, PDF, and other document types. A built-in media player will let you view video and listen to audio, and a document viewer will let you view images and other documents. From within the app, you'll be able to create hierarchical folders in the app's storage space on your iPhone and then move files to and between those directories—including transferring files to and from any SD card. You'll also be able to move photos from a camera's SD card directly to your iPhone's camera roll, and vice versa. Finally, the app will let you share files via email or social-media sites such as Flickr and Facebook.
ZoomMediaPlus claims the ZoomIt app will eventually be able to handle copy-protected content; the company hopes content producers will distribute SD cards pre-loaded with video and audio.
The ZoomIt's official price is $60, although you can currently pre-order the device for $50, with initial orders shipping in April.