The best things in life are free. The trouble is tracking down all those wonderful free things.
It's no different on the App Store, which—let's be honest here-is bursting at the seams, thanks those 140,000 or so apps that Apple's so fond of talking up. Little wonder, then, that one of the more interesting features introduced in the latest version of App Popular—an app that exists to help you find other iPhone and iPod touch apps and sends you push notifications to alert you of price changes—is a new promo code streams section. Users in the U.S. can use App Popular to find promotional codes supplied by developers for free downloads of their apps.
Here's how it works: In version 1.2 of App Popular, go to the Promos Stream section, which lists all the apps available for free along with the number of codes remaining for each app. (Codes are available on a first come, first served basis.) Tap the cell row of the the app you want, and App Popular lets you view more details or grab the code. From there, you enter your e-mail address, and the app will send you the promo code along with instructions for redeeming it. Only one free code per app per phone, please.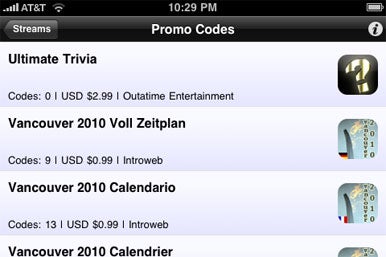 App developers can submit a minimum of five promo codes for paid apps in exchange for a week's placement in this section of App Popular. Not surprisingly, the response from app makers to this new feature has been very positive, App Popular co-founder John R. Haigh told me via e-mail. "Developers have very openly participated and some have provided us with 15-20 codes per app and/or have submitted codes for multiple apps," he wrote.
Access to promo codes isn't the only addition in App Popular 1.2. The update, which arrived on the App Store late last week, also introduces an alternative hybrid search engine that includes price filters. App Popular also improved list viewing in the My App Lists section, while adding alert badges to the My Tracked Apps feature for tracking app price changes.
App Popular runs on any iPhone or iPod touch running the iPhone OS 3.0 update.