Love is in the air as Valentine's Day approaches. If you prepare carefully, love can also be on your iPhone. I looked at a trio of Valentine's Day-themed apps. My advice? Stick with roses and chocolates.
I recognize that the $1 LoveAffinity from Antonio Curci is most likely meant to be charming and cute, but I found it neither. The app purports to calculate a numerical "affinity" score for you and your (potential?) beloved, based on your zodiac signs and what the app calls "other things"—which I chose to interpret as "other nonsense."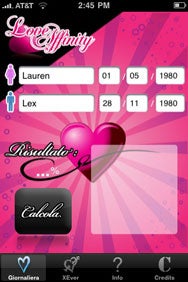 You tap in your name, your loved one's name, and your respective dates of birth, and the app outputs your love quotient. You can generate one for today, and one for your overall relationship. Today, my wife and I scored a 57 percent—we're apparently 64 percent overall. Of course, I'm not entirely clear what that number's supposed to mean, and I shudder to think about the V-Day battles that could ensue if you and your date try the app out and score poorly. Even as a semi-romantic gag, Love Affinity's mediocre design and total lack of genuine usefulness, coupled with its incessant suggestion that you share your affinity level on Twitter or Facebook, hardly seems worth the bother.
iFallinLove, on the other hand, is actually a bit cute. But I doubt you'll keep this $1 offering from Softly Software on your iPhone very long. (It's not iPod touch compatible, by the way.)
If you're using the app solo, you'll launch it and tap the heart when you're in a place you love. From then on, when you launch the app, the bright red heart will loom large if you're near that beloved locale, but get progressively smaller the further you move away from the spot.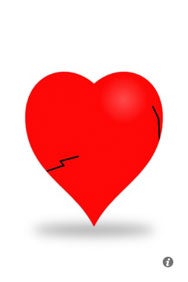 If you find a friend or loved one with the app, you can both tap your hearts simultaneously, and then they'll theoretically swell when you're close, and shrink when you're apart from one another. I wasn't able to test that.
iFallinLove's interface, like the app's capitalization rules, is minimal at best. There's not much to do other than tap a heart or look at it, though the latest version adds a compass-like arrow that "points you to your love" as well as the ability to send a message to your beloved. If this app sounds like it's up your alley, then by all means snag it. It couldn't hold my interest.
The free Cupidr from Stofle Designs seems to fare slightly better than the other two apps, in that it's at least a smidge more genuinely useful. The app's goal is to help you appear more spontaneously romantic to your significant other, which it accomplishes via push notifications. The idea is, every few days (you configure just how frequently), the app can send you suggestions for a new affectionate, loving gesture, ranging from cheap to expensive.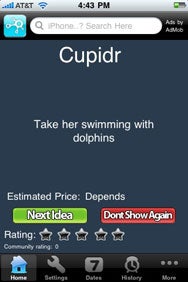 Just precisely how romantic these gestures are, or how legitimate your relationship is if your claimed spontaneous ideas were actually fed to you from a free iPhone app, strikes me as debatable. The suggestions I've gotten thus far haven't exactly bowled me over:
• "Plan a cruise to somewhere exotic: Pricey but worth it." • "Plan a hot hair balloon ride: $150." • "Take her swimming with dolphins: Depends."
The pricing information obviously isn't overly specific, and these aren't the kind of gestures that interest the mother of my children. But who can decipher the mysteries of what stirs the human heart? Besides cardiologists, I mean.
My buying advice? Get your significant other a box of chocolates. Even better? Loan him or her your iPhone so that he/she can play Frenzic for a while. Now that's love.
[ Lex Friedman is a frequent contributor to Macworld.]