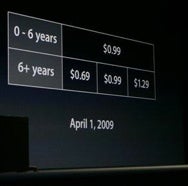 The nature of cause and effect is sometimes surprising—at other times, it seems so blindingly obvious that all you can do is say "duh." If you'd ever predicted that raising the price of a product might cause some consumers to think twice before purchasing, then congratulations: a winner is you!
According to All Things D, Warner Music Group said during its earnings call on Tuesday that growth of digital music sales had decelerated in the past quarter. In fact, sales growth has been slowing ever since the music industry got its way and convinced Apple (and others) to introduce variable pricing in April 2009.
Could this be spun as a good thing? Sure, if you ask Warner CEO Edgar Bronfman, Jr. He argues that variable pricing has overall been a good thing for the company, though he also hedged by suggesting a 30 percent increase during a recession was perhaps not the brightest idea the music industry has ever had. (Which, actually, raises the rather valid question: what was the brightest idea the music industry ever had?)
It's important to note that this doesn't yet mean sales of digital music are declining—they're just not growing as fast as they used to. However, as All Things D's Peter Kafka points out, there could be lessons in here for the burgeoning e-book industry:
During the earnings call, Bronfman sounded a bit wistful as he noted the book industry's apparent success, with the help of Apple, at raising prices above the $9.99 floor Amazon (AMZN) had set. "It's interesting that the book publishing industry, on the iPad, has much more flexibility than the music industry had," he noted.
Book publishers have managed to snag a key victory in the opening battle of the e-book war by freeing themselves from the $10 flat rate that Amazon had imposed, but the question remains: will consumers pay higher prices for electronic books?