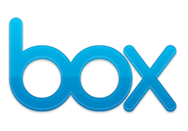 Box.net provides cloud-based file-sharing and collaboration tools aimed at business users. A variety of iPhone apps already integrate with the service.
Of course, Box.net offers an iPhone app of its own as well, and on Monday the company announced that the app has been upgraded with oodles of new features. In addition to the app's core functionality—which lets you view and share your files—the new version incorporates the ability to comment upon the documents and folders you're sharing. That way, you can exchange notes with your colleagues on important documents, from anywhere.
Box.net also announced Tuesday new integration with the iPhone app Quickoffice. The app, which allows you to create, view, and edit Microsoft Word and Excel documents from your iPhone, can now open files from (and save files to) Box users' accounts.
iPhone developers who are jealous of the growing list of Box.net-compatible apps can take solace in one other announcement from the company: It's unveiled new (and free!) OpenBox Mobile APIs, which should allow any mobile developer to create apps that tie into the service.
The Box.net iPhone app is a free download and works with an iPhone or iPod touch running iPhone OS 2.0 or later.