Papershow, a tool for interactive presentations from Canson, will soon be available for the Mac. The kit, which is making its debut at Macworld Expo this week, includes a Bluetooth-equipped pen, a USB key for your computer, and special paper that transmits your handwriting to a screen.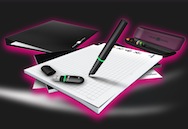 The kit allows for a flexible set up in a conference room; it's designed to facilitate brainstorming and meetings. The idea behind Papershow is that your standard PowerPoint or Keynote presentation is awfully static; this tool lets you jazz things up, and keep your meeting attendees awake and engaged.
The pen includes a tiny infrared camera that can transmit from up to 18 feet away from your USB key, computer, and projector. The paper itself is where the magic happens. The A4-size paper includes a large central grid for your notes and sketches; you can tap the pen on a toolbar on the right side to control color and stroke, to create shapes, and to make corrections. You can print PowerPoint presentations or other documents on Papershow's standard-size printer paper, and then bring them up on your screen and annotate them. You can also tap on the paper to navigate through the slideshow.
The Mac software comes on the USB key and actually does the work of displaying your writing and slideshows; the applications lets you manage documents, import PowerPoint presentations, print pages, and email annotations.
Papershow for Mac will be available following Macworld Expo. It requires Mac OS X 10.4 or better. The $200 starter kit comes with the pen, the USB key, 30 sheets of standard-size paper, a notepad with A4 paper, and a few other goodies (like a pen case). In case you're wondering, that paper is 100-percent recycled. Additional packs of 200 sheets of 8.5×11 inch paper are $20.
If you're at Expo in San Francisco this week, Canson will host a demo of Papershow at Moscone Center's Main Stage. The presentation kicks off at 1:30 p.m. on Friday.