[Editor's note: The MPAA and most media companies argue that you can't legally copy or convert commercial DVDs for any reason. We (and others) think that, if you own a DVD, you should be able to override its copy protection to make a backup copy or to convert its content for viewing on other devices. Currently, the law isn't entirely clear one way or the other. So our advice is: If you don't own it, don't do it. If you do own it, think before you rip.]
If you're a music fan, you probably have a number of DVDs of concerts by your favorite artists. And you may want to listen to the music from these DVDs, say, on your iPod. In many cases, the "soundtracks" of concert DVDs are not commercially available (and even when they are, you already own the DVD, so why pay twice?). So why not rip the audio yourself, and make your own live album from those favorite DVDs?
We've discussed recording audio from different sources on your Mac in the past. This method captures the audio playback from an application on your computer (DVD Player, for example) into a file that you can edit, chop up, and tag. While you could use this method, it requires you to play the entire DVD while the application runs on your computer.
If you want to instead pull the audio files off your DVDs, there are several ways to do so. Our sister site Mac OS X Hints recently ran a hint with one method, but it's a bit complex, and involves some outdated software that may not work for long.
Here's another method I use, which is relatively quick and easy. Start with the latest version HandBrake, the free DVD-ripping and video-conversion tool. HandBrake requires that you also have VLC media player installed on your Mac, which contains the libdvdcss library for circumventing copy protection on DVDs. (DVD-ripping is a legal gray issue, and varies by country—but in the U.S. courts have not determined that ripping DVDs you own violates fair-use doctrines.)
Insert your DVD and launch HandBrake. Select the part of the DVD you want to rip; it's usually the longest title, or the main feature. But for DVDs with several features, you can rip each one individually if you want. In the Presets Drawer, choose Regular -> Normal. Then, under the Video tab, make sure Constant Quality is selected and move the slider all the way to the left to 0—if you're only ripping the DVD to get its audio, the video quality is unimportant, so the smaller the file size the better.
Click the Audio tab, and choose the track you want to rip next to Track 1. If there's a 2.0 audio track use that—it's already professionally mixed down to stereo. If there's only a 5.1-channel soundtrack, you can use that instead. Choose AAC (CoreAudio) under Audio Codec, Stereo under Mixdown, Auto under Samplerate, and 320 under Bitrate. Finally, under Chapters tab, make sure Create Chapter Markers is enabled.
Click the Start button and let HandBrake do its work. Since you're ripping the video at the lowest quality, it should take less time than a high-quality rip. When HandBrake has finished, download Monkeybread Software's free Extract Movie Soundtrack 2.0 (payment requested). This small app exports the audio from a movie file in AIFF format. And if your ripped file has chapters in it, the app can even export each chapter as its own AIFF file. If that's the case, all that's left now is to add your tracks to iTunes, tag them, and convert them to your format of choices (such as AAC or MP3).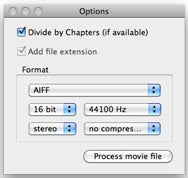 If your DVD doesn't have chapter markers, or the chapters don't split all the tracks of your music the way you'd like, you'll probably want to split your recording into separate tracks. You can do that with the free Audacity, but I find a much easier solution is Rogue Amoeba's $32 Fission. Once you open the AIFF file you have a few options. The first is to select Tools -> Smart Split. The app tried to figure out the track breaks, and you can adjust silence length and sensitivity settings to fine tune the process.
If Smart Split doesn't work as well as you'd like, you can manually look for the spots where the waveform is flat (the silent bits between tracks). First click the Split icon in the toolbar, and then click the spots between tracks in the waveform. For live music with segues, you may need to play the music in Fission to find the best locations for splitting tracks. Save the changes, and you'll have AIFF files of individual tracks.
As a side note, there are a number of programs that claim to rip just a DVD's audio to different formats, and I tried several of them. Most of them do not work reliably, and some of them seem to be the same program, ported from Windows, packaged in a slightly different interface. Your mileage may vary, but there doesn't seem to be a real Mac program that does this trick, and I don't recommend any of those apps I tried. Still, my method is just one way to extract audio—if you have a method you like, post it in the comments.
[Senior contributor Kirk McElhearn writes about more than just Macs on his blog Kirkville.]