Let us just get this out of the way: If you're old enough to understand the off-color connotations of the game's nakesake, you're too old to enjoy playing it.
Spank A Monkey by Vincent Daempfle stars Sugar, the monkey. The game's objective is to make Sugar happy by following her four simple commands: lift, shake, pinch, or spank. Do so enough times in sequence without error and you earn a banana and advance to the next level where it is more of the same.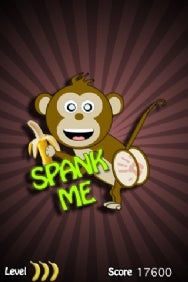 Performing the actions is very simple. Lift by sliding her to the top of the screen. Use two fingers to pinch Sugar. A quick tap suffices for a spank, and a vigorous shake of your iPhone will satisfy Sugar though it might look odd doing so in public. As you get faster, it becomes more easy to slip up and send you back to the beginning. Think of the gameplay as a strangely physical "Simon Says."
The game is very simple so it's probably best suited for younger gamers as most others might quickly tire of the repetitiveness. Though simple, the execution is very good with cute graphics, responsive controls, and appropriate sound effects and music. There is a multiplayer mode which allows you to pass the game to a friend at random times. If you're looking for some lighthearted fun, you might enjoy this game.
[James Savage is the host of the RetroMacCast a weekly podcast devoted to older Macintosh computers.]