Attending a Macworld Expo without Apple may seem like going to a rock concert to see the opening acts, but despite lacking the rock star presence, the show will go on nonetheless.
It was just prior to last year's conference, Apple announced that 2009 would be the last year it participated in the annual gathering, which has been held in San Francisco since 1985. This year's Expo, which has been rebranded Macworld 2010, will feature no keynote from Apple executives and no Apple booth on the show floor in Moscone Center's North Hall.
But while Apple's absence will certainly change the dynamic of the event, it hardly means that the show won't go on. There's plenty to do throughout the five-day event, which runs from Tuesday February 9 through Saturday February 13, even without Apple around.
Walking the floor
"It's going to be a smaller show this year," acknowledged Paul Kent, vice president and general manager for Macworld 2010. Last year's exhibition spanned both Moscone's North and South halls. "Many vendors decided to sit on the sideline and see what Macworld without Apple would look like. It's really up to those vendors, going forward."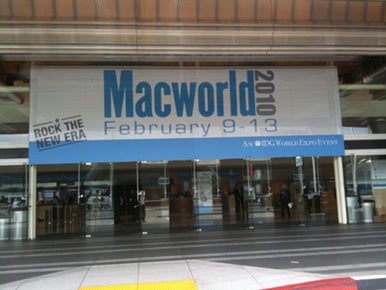 The exhibition hall, open from February 11 to February 13, remains one of Macworld 2010's strongest draws, with more than 250 vendors, including the Mobile Application Showcase, the largest collection of iPhone developers ever assembled, and the Indie Developer Pavilion, a special area for independent Mac developers of all sizes. Plus, more than 60 vendors are introducing new products at the show. There's no question, said Kent, that the product experience remains a very central part of the show. "The three pillars of Macworld are product discovery, conference education, and the social experience."
Kent freely admits that rebounding from Apple's departure may be a two-year process, but he remains optimistic about the future. "I anticipate the vendors are going to come back in droves."
Naturally, it will help if the conference attendance is high. While the exact figures won't be known until the dust clears, there are more than 30,000 pre-registrations for the event. By comparison, Macworld Expo saw attendance of 45,572 in 2007, and a 10 percent increase over that in 2008. Attendance figures for last year's event, however, were not disclosed. Kent noted that he expects a packed house this year, including the more than 700 members of the media that have registered.
Headline acts
In addition to the exhibition hall, this year's show will have a number of feature presentations that Kent hopes will educate, inform, and entertain attendees. "You don't replace a Steve Jobs keynote," said Kent. "But we do know how to build very content rich events here."
On Thursday, New York Times tech columnist David Pogue will host a session called Late Night with David Pogue, featuring surprises guests and musical performances and noted writer and director Kevin Smith will hold a Q&A session on storytelling, technology, and filmmaking.
On Friday, entrepreneuer and former Apple Evangelist Guy Kawasaki will talk to developers about the state of innovation in the tech market; podcaster and pundit Leo Laporte will brodcast live with guests like MythBusters' Adam Savage and The Byrds' Roger McGuinn; and Daring Fireball author John Gruber will discuss the top issues shaping our world.
This year, for the first time ever, the show also extends to the weekend, with a musical performance by artist BT and an event discussing Apple's iPad, led by Macworld Editorial Director Jason Snell.
Besides the feature presentations and exhibition floor, Macworld 2010 features six conferences focused on particular industry trends or classes of users, including a track for IT professionals, day-long symposiums for those interested in business topics like marketing iPhone apps, and hands-on instruction sessions on specific pieces of software.
2010 and beyond
Even with all of that going on, it is still hard to stave off much of the doom and gloom about this year's event, which stems from a sense of history repeating. When Apple announced it wouldn't be returning to Macworld Expo in 2010, it said that trade shows had become a less important part of how it reached its customers, citing its more than 200 retail stores and its popular Website.
Apple also pointed to the fact that that it has slowly drawn back its participation in most trade shows. In 2002, IDG World Expo announced that it would be moving its east coast show from New York back to Boston, which it had left in 1998. Apple's response was almost immediate: it would not participate in a 2004 Boston show. In 2005, IDG World Expo shuttered the east coast show, concentrating on the San Francisco Expo.
Kent said there are differences between the way the east coast show was handled after Apple's departure and the way IDG is handling the San Francisco show. "There's a tacit acknowledgement by us that Apple is not here and that the show needs to be different." We're a little more in touch with our marketplace and our community. We deal with our market in a much more intimate way now."
It's been a hard time for trade shows all around, especially where the Cupertino-based company is concerned. In recent years, Apple has also foregone the National Association of Broadcasters conference, Apple Expo in Paris, and the annual NAMM music show. "Trade shows need to change to provide value," said Kent.
Ultimately, the future of the event will rest upon whether vendors and attendees feel that they've gotten their money's worth. But the value of Macworld Expo exceeds merely what is on offer on the show floor. The opportunities for networking, meeting fellow Mac users, and interacting with developers and experts are unmatched.
Next year's show has already been scheduled in San Francisco, running from January 25 to the 29. "We're committed to moving forward," said Kent. "We've taken a lot of bullets this year, but we've known our path." For Kent, it's not about Apple, it's about the community. "Those who come," he pointed out, "really like the show."