When I started thinking about how to summarize Stress Free with Deepak Chopra, the line "Stressed out with Deepak Chopra" came quickly to mind. It's a good pun, but is it an accurate assessment? After having spent weeks using Stress Free with Deepak Chopra, with some of that time taken up with firing off two (unanswered) notes to Signal Patterns' tech support, some spent trying to figure out why the app seemed so … repetitive, and much spent attempting to figure out, how, technically, to simply "unlock" Key 2 and Key 3, and too little time actually undoing my own stress, I've come to my conclusion: yes.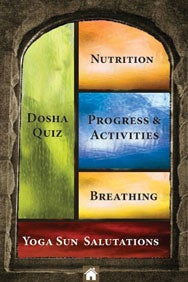 While Stress Free has more than a few positive points, they are outweighed by an unintuitive interface, a total lack of documentation, and a false front promising technical support.
First, though, a disclaimer: I like Deepak Chopra. What he tries to teach, I generally agree with and think must add to the good vibes in this world. So, this is not a review of Deepak Chopra, the man, nor a review of any of his other works. It's simply a review of one of the products made by the Deepak Chopra industry, and it's hard to recommend this product based on my personal, frustrating experience.
The app, which begins with an introductory short video starring Chopra, is divided into six "keys," or levels. Key 1 is "Find your true identity." Key 2: "Live the present." Key 3: "Use your body for feedback." Key 4: "Find invincibility." Key 5: "Rid yourself of toxins." Key 6: "Practice the law of attraction." What's clear is that you must "find" Key 1 before Key 2 is "unlocked," and so on, through the levels.
What's not clear is why. Nowhere does the app explain why "finding your true identity" precedes, say, living in the present or ridding yourself of toxins. Actually, you could argue that you can't find your true identity until your self is rid of toxins, and that it sure would help to learn how to "live in the present" while in the process of finding your true identity. There must be counter-arguments. But they're not to be found here. Nor is an explanation of why you can only do activities on various levels simultaneously after you've unlocked each level, in turn.
The activities in Key 1 include several involving reflection and a meditation on nature and architecture photos backed by a slow piano track. You are also directed to try to discover what will make you "truly want" and to contribute to "The Love Journal," where you write about things you appreciate. In Key 2, activities include "Find Nature," which implores you to commit to taking "that first walk in nature today." (Who says it's my first?)
This segment is interactive in a counterproductive way, in that you can "find parks near me," which leads you to a map of local parks. Among the places I was pointed to was a florist and a nearby community park where nature is contained within softball fields, tennis courts, and a modern playground. Key 2 also includes two other meditation activities—"Breath Meditation" and "Music Therapy," and a "Savoring Album," where you are directed to appreciate small facets of everyday life.
Some of these activities are as trite as they sound; some not. But all are tiresome when repeated over and over again, without variation, which is necessary if you don't "progress" to the next level.
My wife "found Waldo," so to speak, and helped me figure out how to unlock Key 2. But I got stuck again after almost finishing the activities in Key 2. Before being given the key to unlock Key 3, I had to write down my "Key (2) Thoughts"—but where to write them down? This was the mystery. And when two appeals to customer support went unanswered (including one repeatedly returned to me with a "failure to deliver" message, although the e-mail address I had was correct), the stress turned briefly to anger.
Stress Free's $10 price tag (and some of the app's production values), in addition to frequent encouragement to e-mail the company, send "Karma mail" to other app users, follow Deepak Chopra on Twitter, and become a Facebook fan, all suggest a "we're all in this together" and a "we care" type of environment. Unfortunately, this didn't manifest itself in either the app's design or in the lack of response to my simple plea asking, "Where do I write down my 'Key (1) thoughts,' which is my next suggested activity?"
(The answer is that you first must finish one specific activity in key 1, which is "Is it my ego," which requires you to find "one thing that you feel that you truly want and believe will make you happy." You've "found" this thing when you answer a series of simplistic questions about the thing, after which the app determines whether the thing you want is related to your ego [bad] or not [good!]). What's not at all clear is why this activity is the one of four activities that can get you to the second key activities. Perhaps because it can be measured, however crudely, with a questionnaire?
There's no way for me to know. Perhaps, like the Koan-like question that Stress Free begged—"How do you unlock a Key?"—I'm not meant to know the answer. But shouldn't this "not knowing" be more of an existential, rather than a technical, problem?
[Jeff Merron is a freelance writer and editor living in North Carolina.]