Editor's Note: The following article is reprinted from GamePro.com. For more gaming news, visit GamePro's news page.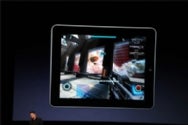 In its Tuesday conference call with investors, Disney CEO Bob Iger brought up the iPad, noting the newly unveiled tablet's abilities to complement his company's wealth of interactive and visual content. And that may mean great things for Disney Interactive video games and Marvel comics on Apple's device.
As was expected, Disney spent precious little time during its conference call on the goings-on for the game-publishing Disney Interactive division, instead focusing largely on its TV networks, movie studios, and theme parks. However, a statement made by Iger could signify the company's dedication to the iPad platform in the new year across all of its media divisions, gaming included. When asked about the iPad during the Q&A session of the call, Iger stated that he thought the iPad "could be a game-changer in terms of enabling us to create new forms of content."
During the call, Iger only commented on Disney's more established properties like digital versions of its books and episodes of its programs like Lost coming to the platform. With the company's acquisition of Marvel and the steady growth of its gaming division, digital comics and iPad games seem like a perfect fit for the upcoming device. Plus, if you call something a "game-changer," the laws of wordplay demand you create games on it. Might we suggest Split/Second?