Much as you may have heard about the "paperless office," the truth is that paper is still a popular item to have around the home and the office. And it is because many of us have at least one printer attached to our computers—either physically tethered via a cable or virtually connected over a network. Whether you hope to use that printer to produce photographs, drafts of your next novel, or flyers for your kid's upcoming jai alai tournament, it will do you little good sitting in its box. Now's the time to break it out and configure it for your Mac. The means for doing that is Mountain Lion's Print & Scan system preference.
Your preference for printing
Choose System Preferences from the Apple menu and, in the Hardware area, click Print & Scan. If you've switched on your printer, attached a cable between it and your Mac, and if the Mac OS natively supports that printer, you'll see the printer's name in the Printers list. At this point, you're well on your way. When you next wish to print something, just choose the File > Print command from within the application you're using and your printer should shortly produce the printed document you're after.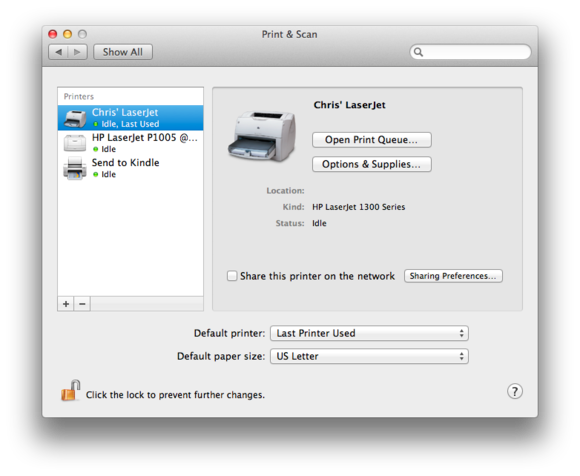 To the right of the Printers list is an area that contains a few options. They include:
Open Print Queue: When you print a document, the PrinterProxy application opens. (When it opens, it's named after your printer.) Any documents in line to be printed will appear in its window. Within this application you can perform a couple of printing chores, which I'll go into later in the column.
Options & Supplies: When you click this button, you'll see two or more tabs. Click the General tab and you'll find fields for your printer's name and location. (The location isn't entered by default. To add one—Spooky Attic, for example—just type it in. That location will appear after the Location entry in the preference's main window.) You should also spy a listing for the printer's driver version.
If you see a Driver tab, click it and you'll view options offered by your printer. For instance, you may be able to choose a different tray to output pages to. Or you may see a Fit to Page option. And particular printers will show the total memory installed in the printer.
And then there's the Supply Levels tab. Some printers (inkjet models, for the most part) will tell you how much ink remains in their cartridges. This can help you learn when it's time to purchase new cartridges. Note, however, that these supply levels are approximate. Some printers report levels inaccurately, which can result in you replacing cartridges before they've run out of ink. A better bet is to check this tab every so often and, when it shows low levels, pick up some new cartridges. Continue to print until you can see evidence that a cartridge really has run out. Then replace those cartridges that need it.
Sharing Preferences: At one time, if you wanted to share a printer across a network, that printer had to have networking hardware built into it. That's no longer the case. Instead, you can enable the Share This Printer on the Network option and your printer will appear as a printing destination for any other Mac on your network. (When you do this, Printer Sharing should be switched on for your Mac. If it isn't, click the Sharing Preferences button and, in the resulting Sharing window, click the Printer Sharing option in the Services list.)
Default Printer: If you have just a single printer, this pop-up menu will mean nothing to you. However, if your have Printer A in your home office, Printer B in your mate's bathroom, and Printer C in the rumpus room, you'll want to carefully configure this menu so that you're printing to the most appropriate device. (You can also make a printer the default by Control-clicking it and choosing Set Default Printer from the menu that appears.)
Default Paper Size: Here in the United States, most of us can choose US Letter from this pop-up menu and never touch it again. But if you use a different size of paper—legal or A4, for example—choose it here.
When setup's not so simple
Well, that was pretty easy. Unless, of course, your printer doesn't appear in the Print & Scan window. Although configuring a printer is far easier than it once was, there may be times when you need to do more than this. For example, if you've connected a printer to your Mac and it doesn't appear in the list of printers, or it does appear but is listed as a generic printer rather than by its name, you'll have to install the printer software (specifically, the driver) for that printer.
Some printers ship with a CD that contains that software but, increasingly, new Macs don't have CD/DVD drives. And honestly, that's fine. Much of the time that printer software is out of date. You're better served by going to the printer manufacturer's website, locating its Support/Downloads area, and downloading the latest version of the printer driver and accompanying software.
Once you've downloaded and installed the printer software, your printer should appear in the Printers list. Unless it doesn't. And why wouldn't it? Suppose that printer isn't physically connected to your Mac. Instead, it uses a network connection. What then?
Note: When you purchase something after clicking links in our articles, we may earn a small commission. Read our affiliate link policy for more details.
Chris has covered technology and media since the latter days of the Reagan Administration. In addition to his journalistic endeavors, he's a professional musician in the San Francisco Bay Area.