Many factors go into planning a trip to Disneyland, whether you're a season pass holder or first-time visitor. As a kid growing up in Los Angeles, the biggest one for me was always wait times. Over the years, my family learned the tricks to the schedule—coming on weekdays, visiting during January and October maintenance—but there was still some chance of hitting a rough day at the parks.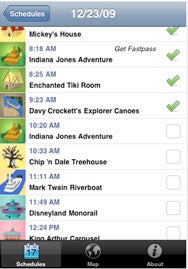 iPhone developer Juicy Development seeks to take this variable out of the Disney equation with its FastTrac app, which the developer is showcasing at this week's Macworld Expo. Just input what attractions at the theme park you wish to ride for your given day and arrival time, and the app will create a customized schedule for you based on multiple factors (how busy the day has been in the past, the popularity of the ride, and a database of tips and tricks from Disneyland veterans, among other things).
You can also generate individual schedules for everyone in your party—a must if you're traveling with kids of different ages. The UI is beautifully simple, with map illustrations painted in the style of Disney artist Mary Blair.
Acording to the developer, FastTrac was tested heavily during peak capacity hours over Spring Break and the Christmas holiday to ensure the app's effectiveness. The app currently only supports rides in Disneyland—presumably, additions will arrive at some point for California Adventure and Disney World.
The app—priced at $5—will work on both the iPhone and iPod touch, and requires iPhone OS 3.0 or later.