Often times, I'm too indecisive to pick out exactly what music I want to listen to on my iPhone, and so the shuffle feature is something I rely on quite a bit. Random Play, a music app from developer Chilli X, aims to upgrade the built-in music player's boring shuffle feature with a little eye candy.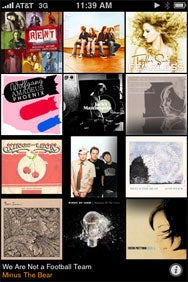 Visually, Random Play is brilliant. The app takes the cover art from 12 songs in your iTunes library and displays them on the screen, letting you see a random mix of songs that you can tap around to like a game of musical popcorn.
This is a huge step up from generic shuffling, which usually results in repeated skipping until I find something I can stand. With Random Play's approach, you get to see a preview of a dozen possible songs and pick out which one looks the most appealing. If you see something you know you don't want to hear, you can double-tap and a new one will appear. If nothing looks appealing, shake the iPod and a whole new set of covers will appear.
Unfortunately, there are some drawbacks to Random Play. The App Store description says that Random Play will only select songs with associated art, but I found that a graphic resembling a record sometimes showed up for songs with no pictures. Some users might enjoy this "mystery track" feature; to me, it kind of defeats the purpose of the visual shuffle. If you've obtained your music from a source other than the App Store—legal or otherwise—and haven't had the patience to add a picture to every last track, a lot of your iTunes library won't work properly in Random Play.
Because third-party apps can't run in the background on an iPhone or iPod touch, Random Play shuts off if you leave the app to check your e-mail or peruse your calendar. Contrast that with the iPod app, which can run in the background and keep cranking out music.
If you like the idea of a visual shuffle, and you can remember to keep the app open when it's in use, Random Play is pretty neat. But if you're more of a multitasker who prefers music to play in the background, the built-in iPod app and its shuffle feature are probably more to your liking.
[Meghann Myers is a Macworld editorial intern.]