App makers have a lot to sort out between now and the iPad's planned arrival in late March. But at least one developer is jumping headfirst into the uncharted waters of making apps specifically for the iPad.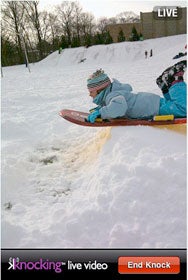 Just two days after Steve Jobs unveiled the iPad, Sourcebits, a Bangalore, India-based company responsible for over 150 iPhone apps, announced plans to shift more than half of its 150-person development team over to a newly created iPad Lab. That venture will focus on building what Sourcebits touts as "super apps" for the iPad, iPhone, and iPod Touch.
"A super app is a 'wow' app, that unlocks something, that is more engaging," said Brian Meehan, global head of product development for Sourcebits and steward of the new iPad Lab. But the "super apps" concept isn't a new one for Sourcebits, which has followed that same approach when it comes to building iPhone and iPod touch applications.
Take Knocking Live Video, for example: The social networking app allows iPhones to stream live video to one another. Another Sourcebits offering, TweetGlobe, allows users to get GPS readings of the people they follow on Twitter.
Though Sourcebits followed its "super apps" approach long before rumors of an Apple reached fever pitch, Meehan is excited about the prospect of taking the super apps concept to the big screen, even if Apple's tablet has been dismissed in some circles as an oversized iPod touch.
Meehan disagrees with that criticism. "My feeling is, people were unsure of the Amazon Kindle, and it's had tremendous success," he said. "But it has not one tenth of the iPad's functions." The iPhone met similar uncertainty after its unveiling in 2007, Meehan adds. "And even today, the iPhone's capabilities are still being unlocked."
For the next three months—the time between the iPad's unveiling, the March release of initial iPad, and the arrival of the 3G-enabled version of a tablet in April—iPad Lab's team of 80 developers plan on burning the midnight oil so that the iPad early adopters can expect a multitude of supercharged super apps will be waiting for them when they get their hands on a tablet.
Knocking Live will be one of the first apps upgraded for the iPad, though the new device's lack of a video camera will limit it to the receiving end of video streams, much like second-generation iPod touch users. Meehan won't divulge further what the iPad Lab is working on, only that high profile clients including GE and the Coca-Cola Company have already signed on. "We're pretty much in 24-hour development right now," he said.
Despite the iPad's size and unique functionality when compared to Apple's other mobile handhelds, the development processes turn out to be not much different, according to Meehan. As with most other iPhone apps, the older versions of Sourcebits' offerings will run on the the iPad in an iPhone-sized window; you'll also be able to double them in size with some pixelation. Meehan says that new apps will be compatible with both devices, meaning anyone who owns both an iPhone and an iPad will be able to buy a Sourcebits app once and sync it to both devices seamlessly.
Though Meehan is enthusiastic about the iPad's enhanced capabilities compared to iPhone, he doesn't anticipate that it will steal any of the iPhone's thunder. "Gaming is obviously going to be a better experience on the larger screen," he said. "But I don't think we're ever going to take away focus from the iPhone. The iPhone is always in your pocket."
What Meehan does expect, though, is the decline of a different portable device. "When I think of my friends, family, students, I don't think they're buying a laptop," he said.
Though Sourcebits will devote a huge portion of its task force to iPad development, the company is still developing apps for multiple platforms, including Palm Pre, Android, and BlackBerry. In general, the company works mostly with big name clients to produce what Meehan describes as "branded apps," contracting with companies who want their own apps but don't keep a developer on staff.
With the iPad as the new frontier in app development, Sourcebits has an opportunity to not only add a new dimension to its work with existing clients, but also use the iPad's unique features to bring in new clients.
"We are focused on giving clients insights into what we can unlock," Meehan said. "There's a tremendous amount of things that developers will bring to the iPad."