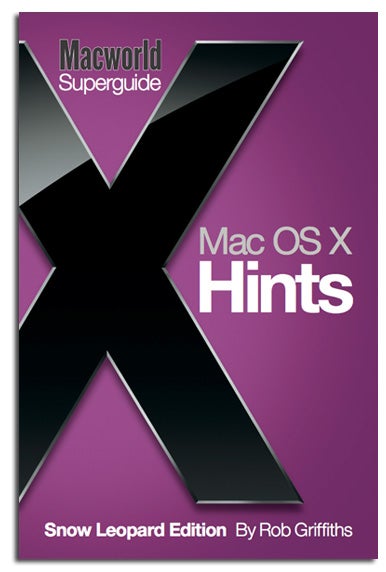 When it comes to uncovering your Mac's hidden powers, there's no better resource than MacOSXHints.com, a collaborative Website that lets Mac users share their favorite tips and tricks. In fact, over the past ten years, the site has collected more than 13,000 hints.
For this update of our popular OS X Hints book, I've worked with the other editors of Macworld to pull together the most useful hints for Mac OS X 10.6, Snow Leopard. Whether you're a power user looking to take control of your system or a relative newcomer searching for ways to be more productive, this handpicked collection will help you get the most from your Mac.
We've done more than just copying-and-pasting the hints from the site, though. We've also rewritten them all in a clear, straightforward fashion, complete with screenshots, to make them as easy-to-use as possible.
We've tried to address nearly every aspect of Snow Leopard, including customizing the look of Finder windows, searching hidden system files with Spotlight, and making the most of OS X navigation tools like Quick Look, Exposé, and Spaces. Save time with undocumented shortcuts and unlock powerful file sharing and printing features. Follow the step-by-step advice on squeezing more power from OS X's productivity programs, including Mail, iCal, and iChat. Track down anything online and stay organized with Safari tips. Finally, take a trip to Terminal. If you're new to OS X's command-line interface, we'll show you how to get started and how to protect yourself from dangerous actions. If you're a command-line veteran, you'll find tips for taking advantage of hidden commands and strategies for working in Terminal more efficiently.
The book is available in several formats, so you can choose the one that works best for you. If you're interested in a PDF (suitable for viewing in Preview or Adobe Reader), you can buy one and download it immediately for just $12.95. Or you can get it as a high-quality, full-color paperback book for $19.99. Don't want to download the PDF? You can also get it mailed to you on CD-ROM for $12.95.
Want to see more before you shell out for this book? We've created a downloadable sample that includes the book's complete table of contents as well as sample pages. And yes, if you are still using Leopard, we've still have the previous version of this book available.
If you're looking to get the most out of Snow Leopard, this book is a great way to help you do just that. And once you're up to speed, we encourage you to share the wealth—post your own discoveries and tips at www.macosxhints.com.