South Park Mega Millionaire is a hilarious iPhone game—if you appreciate the Comedy Central show's crude sense of humor.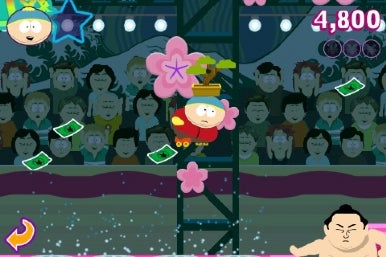 Developed by Real Arcade, you can play as Cartman, Stan, Kyle, and Kenny and navigate through 20-odd levels of disgusting Japanese game show mayhem. Each level is filled with various obstacles (bacon-covered pathways, sumo wrestlers, mutated bunnies, and the like), and you're tasked with guiding your character through the level without, you know, dying.
It's fun, crass, and tough. I found that I crashed and burned on some levels repeatedly before I mastered them. Luckily, the game is generous: You can replay each level as many times as you need. Of course, each time you fail to complete a level, the game show host insults and chastises you, and the character you're playing as is apt to curse or complain, too.
The controls are simple, but effective. You tilt the iPhone to move left or right, and tap the screen to jump. (You can also choose to tap either edge of the screen to move left and right, but I found that less fun.)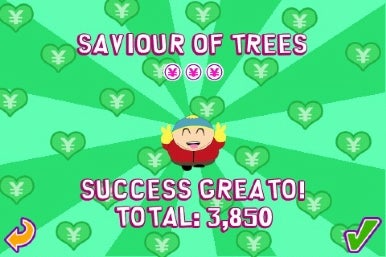 There's a lot going on both visually and aurally in South Park Mega Millionaire, and plenty of comedy too. The game show host speaks in both broken English and broken Japanese ("Success greato!"). If you're not easily offended and you are easily amused, I think you'll be satisfied spending a buck on this game.
[ Lex Friedman might be worth following on Twiter, if you're not easily offended and are easily amused.]