Ceville for the iPhone, a take-off of the award-winning PC game by the same name, is a point-and-click arcade-style game in which the player tries to hit as many enemies as possible in a given amount of time. Developed by Kalypso Media, the game is (unfortunately) quick, repetitive, and far too easy to have any real replayability.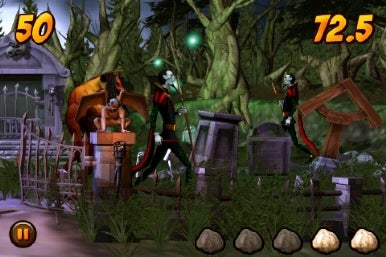 You play the game as one of two characters: Ceville (who throws tomatoes), or Lilly (who throws garlic). There are three different stages: the dungeon, the oasis, and the graveyard. Each stage is a panorama, so you can either "tap and drag" the screen to see the other parts of it, or "tilt" the iPhone from side to side. I found that the "tilt" option, while creative, was hard to control and thus frustrating.
The first time you play the game, you'll have to "unlock" the next two levels (you do this by scoring well, and this takes all of two minutes). The object of the game is to throw your projectile of choice at the enemies that pop up/walk across the screen, and hit them. To reload, all you have to do is click your depleted ammunition. The scoring is a bit confusing, but you will score more for hitting many enemies in a row. This "combo" bonus will continue even if you fail to hit one enemy in a streak (but not two).
The graphics are great—very smooth, colorful, and high-res—and the background music is fun and vibrant. The use of the iPhone's accelerometer, while not superbly-implemented, is creative. Ceville for the iPhone might captivate a child, with its funny cartoon voices and bright colors, but will bore anyone over the age of ten in about six minutes.
[Sarah Jacobsson is a contributing writer to Macworld.]