In Firefly Night by Frozen Giant, colorful fireflies dance across your screen, and the objective is to get them into the matching colored jars. While the game's premise sounds simple, catching the differently colored fireflies as the clock ticks down is a surprisingly challenging mission.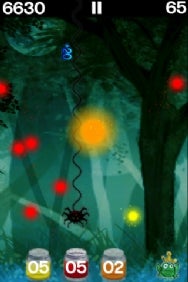 You control the game's action with your finger. You touch and drag a firefly into its matching jar. Meet your quota and you advance to the next level. Higher levels introduce more difficult challenges like grabbing the right combination of fireflies to create the necessary color. There are bonus points floating about, and snowflakes which freeze the action for a spell to make it easier to gather the fireflies.
The game objectives are simple—lending Firefly Night to quick sessions. Thankfully, you can resume your game at the same level should you fail to beat the more difficult ones on the first attempt. OpenFeint integration allows you to earn achievements, post progress, and interact with an online community.
Firefly Night is a very fun casual game that is quick to learn but requires the most nimble of fingers to master. The beautiful animations, sound effects, and enchanting soundtrack create a wonderful atmosphere and enjoyable gaming experience.
[James Savage is the host of the RetroMacCast a weekly podcast devoted to older Macintosh computers. He remembers catching only yellow fireflies as a kid.]