At a Glance
Expert's Rating
Pros
Compact
Stunningly sharp results, particularly with 50mm portrait lens and 12-megapixel sensor combo
Component parts feel solid, well made, and attach and detach easily
Cons
Auto white balance performance variable
Busy menu screens and small typeface make function searches fiddly
Our Verdict
If you want professional-looking photographs, a single-lens reflex (SLR) camera is best, but an SLR won't fit in your pocket. The race is currently on to deliver a compact camera boasting SLR quality. Olympus and Panasonic have come closest with their Micro Four-Thirds cameras. Smaller than the Olympus and Panasonic offerings is the revolutionary new "interchangeable unit camera system" from Ricoh, the GXR.
The basic GXR set-up is based on a camera body with a high-resolution 3-inch LCD screen for picture composition and review, attendant controls, pop-up flash, and padded handgrip. What's missing is a lens and, crucially, a sensor—this is what makes Ricoh's camera so different from other cameras. Lens, chip and image processor come combined in a separate slide-on unit, clicking easily into place on the body to outwardly resemble any other rugged, enthusiast-targeted compact. Because there's no sensor in the camera body, the potential for expansion is theoretically endless, if the convention-defying idea takes off.
There are currently two lens and sensor combos for the GXR: a 50mm macro (close-up) lens married to an APS-C sized sensor, as found in full-sized SLRs (ideal for taking portraits with attractively defocused backgrounds); and a 24mm to 72mm (3X) zoom wedded to a 1/1.7-inch CCD sensor, as found in Ricoh's range-topping GR Digital III. The 24mm to 72mm lens with sensor is the one you'd typically use, but the 50mm macro lens with sensor makes the most of the GXR's compact-come-SLR potential. The two units also offer different resolutions: 12.3 megapixels from the CMOS chip with the 50mm; and 10 megapixels from CCD with the 24mm to 72mm lens.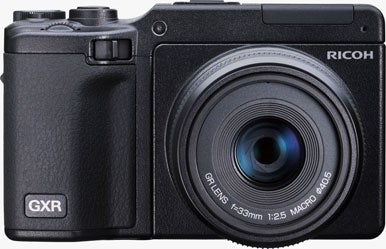 Other optional accessories include an angle-adjustable electronic viewfinder (EVF), and an external flash, both of which clip onto the camera's hotshoe for greater creative flexibility. Both cannot be used at the same time, however.
Swapping features
Access to on-board features inevitably changes when attaching the different lens/sensor. For example, attach the zoom combo and the user has access to 640 by 480 pixels video; swap this for the 50mm and video resolution is boosted to a maximum high-definition 1280 by 768 pixels at 24 frames per second (fps).
The camera powers up ready for the first shot in 3 seconds, which is a little slower than a SLR. Unlike a SLR there are no dedicated buttons for quickly adjusting light sensitivity (up to ISO 3200), so you have to wade through three menu screens of small, dense type to select this setting manually.
If you want to occasionally take a few snapshots, an automatic mode is provided, along with the standard creative modes of Program, Aperture Priority, Shutter Priority, and Manual, plus a Scene Mode setting. The last is where video capture can be found, along with pre-optimized portrait, landscape, sports, night scene and, more unusually, a perspective-altering skew correct stills setting. There are three further custom mode settings found on the same dial, to which users can attribute preferred settings for speedier access.
An aptly named Direct button provides a quick icon-led overview of the settings that are currently in play. Users can tab through and adjust the selected options with a twist of the SLR-like command dial at the top of the handgrip and four-way arrow pad at the rear. Though the control may sound complex, with a little familiarity GXR operation quickly becomes intuitive.
With the 50mm lens and 12-megapixel sensor unit attached, the GXR comes into its own for producing stunning portraits and detail-rich close-ups. However, we found that low light and busy scenes confused the auto focus on the camera, prompting us to use the manual focus ring. Auto white balance performance proved variable when shooting under artificial tungsten light. This is a camera set-up that benefits from the user getting hands-on and tweaking settings; merely pointing and shooting with the GXR would be like buying a Ferrari and just using it for grocery shopping. The camera didn't shine quite as much in comparison with the zoom lens and 10-megapixel sensor attached, but then this is the jack-of-all-trades option adaptable to shooting a wide range of subjects.
Macworld buying advice
While the GXR sounds like good news for photographers looking for a high-quality shoot-from-the-hip camera for street and travel photography, getting set up doesn't come cheap. The basic body is a suggested $549, to which must be added $830 for the 50mm lens and sensor unit, and/or $440 for the 24mm to 72mm zoom unit. Even the most affordable combination costs nearly $1000–the kind of money that would otherwise buy an entry-level SLR. Ultimately, the GXR is for someone who already owns a competent SLR and wants a more portable alternative that looks and feels the part while offering picture quality that's just as good (or very near) SLR quality.
[Gavin Stoker is a freelance contributor.]