Green screens are often used in the movies to place actors in all kinds of fantastic scenes. The actors are filmed in front of a green screen and then software removes anything green and replaces it with a new background. Green Screen Studio from Moon uses this same basic technique to transform your mobile photos.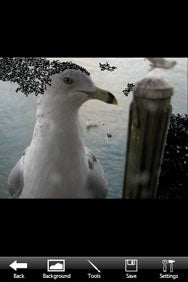 Green Screen Studio offers a few different ways to remove and replace the background of your photos. There's an automatic option that will attempt to remove the background with just one tap. I say "attempt," because even when I used a photo taken using a green screen background, there seemed to always be a green outline around the subject left behind. Using the automatic option with regular non-green screen photos just produces a mess.
A Magic Brush works somewhat like the Magic Wand tool in Photoshop. Wherever you drag your finger on the photo, this tool will select and erase those colors. Unfortunately, unless you have a very high contrast photo like a bright white subject on a black background, this tool just doesn't offer much help and ends up deleting parts of your subject. You can also use Polygon and Trace tools to create shapes to delete parts of the image.
To me, only two tools in Green Screen Studio stood out as useful—the Paint and Eraser tools. The Paint tool simply erases any part of the image that you paint over. The Eraser tool acts as the only undo option in Green Screen Studio. Wherever you brush on the photo, it restores that part back to its original state. Not having an undo button is just really frustrating. If you make a mistake you have to use the Eraser tool to manually undo instead of just tapping an undo button.
Once you've managed to delete your image's background, you can either select a new one from the camera roll on your iPhone or iPod touch or use one of the supplied ones. Green Screen Studio comes with ten backgrounds for you to use, including beach scenes or famous landmarks. After you've selected your background, the new image can be saved to your camera roll.
Most of Green Screen Studio's features just didn't work very well and the lack of a real undo option was beyond frustrating. There's also no way to move, rotate, or re-size your cut-out subject. Everything about this app just felt half-finished; there are simply better image editors out there.
[Tim Mercer is a technology enthusiast, graphic designer, and blogger, whose blog, digital-artist-toolbox.com, offers free resources to the digital artist and graphic designer.]