Following Tuesday's release of a new version of Aperture from Apple, developer Creaceed has come out with an update of its own. The company's Hydra plugin is now fully compatible with just-released Aperture 3 in 64-bit mode.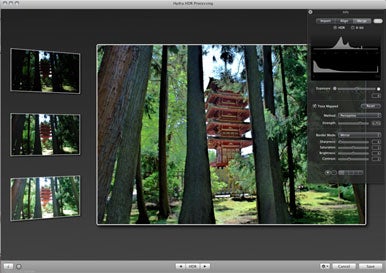 The plugin, which is also available in a standalone version that does not require Aperture 3, provides tools for manipulating high dynamic range (HDR) images that are created by combining two or more exposures of the same scene taken with different time settings to provide maximum detail of the darker and lighter areas.
In addition basic merging and toning capabilities common to many HDR manipulation apps, Hydra offers a number of advanced features, such as the ability to combine exposures taken without a tripod by subtly warping each shot to match the features of the others, thus reducing color bleed and ghosting in the resulting image.
According to Creaceed, the update makes Hydra the first Aperture 3 plugin capable of working in 64-bit mode on Snow Leopard—although it is also compatible with 32-bit architectures and Aperture 2. A stand-alone version of the software, which does not require Aperture, is also available.
Hydra, which costs $80, is available for purchase directly from Creaceed's site, where demo versions of both the plugin and standalone versions of the software area also available.