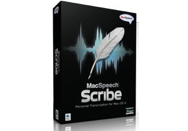 If you love talking to yourself, hate typing, or both, I have some good news: the new MacSpeech Scribe software can now transcribe your recorded voice into typed text with up to 99 percent accuracy, according to developer MacSpeech. And it's available now.
If you happen to be attending the Macworld Conference and Expo, or if you already own MacSpeech Dictate 1.5, you can snag MacSpeech Scribe for $100. The rest of us may have to pony up the full $150 suggested retail price.
MacSpeech Scribe requires a one-time setup where you provide a sample of your voice. From then on, the software can transcribe virtually every word you say. You provide a recording (in AIFF, WAV, M4V, MP4, or M4A format), and then let the Scribe do its thing. You have to verbalize your punctuation [comma], but it's easy enough to get used to after an hour or two [period].
If the work you need transcribed includes a lot of "heretofore," "forthwith," and "undersigned," you'll likely want to spring for the MacSpeech Scribe Legal add-on, which is optimized for speech from lawyers and their ilk. The Legal add-on costs $99 for registered MacSpeech Dictate Legal customers.
MacSpeech Scribe requires Mac OS X 10.6, and works only in English. It's available directly from the MacSpeech Website.