I've got a mind blowing concept for you: You don't need the Doppler radar. OK, I'll grant you that's quite a statement in this day and age when the only thing the National Weather Service can't seem to predict is what color underwear you'll be wearing, but I think it's time to be honest with ourselves. Sure there are times when a pinpoint representation of the weather ahead is necessary, but for those of you rocking the 9-to-5 gig, all you really need to know when you leave the house is what temperature it will be, and if precipitation will be hurled at your noggin from the sky. Umbrella Today? from Thoughtbot looks to answer the question posed by this $2 app's name.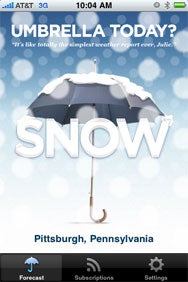 As befits an app aiming to simplify your life, Umbrella Today? is as simple as it could possibly be. After entering your location, whenever you launch the app, it displays a graphic and a "yes" or "no" answer. Thanks to a recent update, Umbrella Today? supports snow and rain, and seems to be pretty accurate. If you'd rather not have to launch the app and want a heads up at a specific time, a push notification can be set for a certain time every day.
As someone who has spent a fair amount of time watching The Weather Channel, I wasn't too thrilled with this app at first. Honestly, it seemed pretty dumb. Once I got to thinking about it, however, I realized that Umbrella Today? made perfect sense, and it makes my phone feel like more of a companion than a device. It's as if I'm on my way out the door and then someone puts their hand on my shoulder and says "Hang on pal, it might rain, you should grab an umbrella today." Is that worth $2? That's arguable. But the app certainly delivers what it promises.
[Rob de la Cretaz is a full-time polymath and a proud resident of Pittsburgh.]