Accessory manufacturer Speck announced at this week's Macworld Conference and Expo that is releasing eight new fashion-oriented iPhone and iPod touch cases in a variety of colors and designs.
The Palo Alto, Calif-based company's new shells take on a variety of hues and design, including simple solid colors in a semi-transparent satin look, traditional designs like a Liberace-inspired pink plaid and modern, technology-based motifs that feature abstract patterns, and stylized pictures of headsets.
Despite the flashy appearance, the cases are still designed with the primary goal of offering protection for one's mobile devices. In announcing the cases, Speck CEO Irene Baran contends that the covers will "provide even more choices for more personalized pairings of style and protection."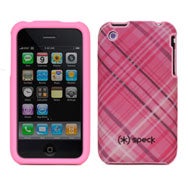 If you happen to be the kind of person who starts his or her day coordinating every piece of clothing, Speck's Fitted line is going to give you plenty of choice to go by. For the rest of us, there's always the extra protection—after all, who would want to steal a pink-plaid phone?
Speck's cases are available from the company's Website and its authorized distributors at a suggested retail price of $30. If you're at Macworld Expo, you can get a first-hand view of the cases inside the Dr. Bott area of Booth S-1912.