During the development of Aperture 3, Apple let a select group of professional photographers try out a beta version of Aperture 3. We spoke with some of those testers, to find out which of Aperture 3's features they found most useful.
Mixing Multimedia
For advertising photographer Chase Jarvis, one new feature stood out immediately. "The big coup for me is the full, multimedia video integration. Since I started shooting video on my D90 ( ) two years ago, it's been a really messy workflow. Apple has done a great job of bringing it all into one program."
More and more photographers are taking advantage of the built-in HD video capabilities on cameras like Nikon's D90 and D3s, and Canon's 5D Mark II ( ) and 7D ( ). Aperture allows you to import those clips, scrub through the video, make multimedia slideshows, and export to FinalCut Pro.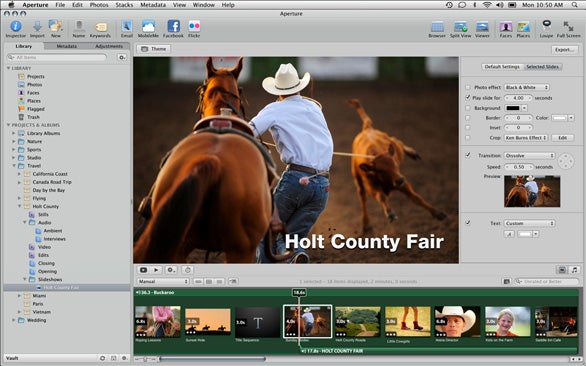 Wedding photographer Sara France also praised Aperture 3's multimedia tools. "A lot of our videographers have switched to [Canon DSLRs] because of the amazing quality you can get with the Canon glass, the shallow depth of field, and the ability to shoot in low light."
France already produces slideshows for her clients; now she can also integrate video into the final product. Her favorite detail is a custom timing feature that allows you to determine the pace of a slideshow by simply pressing return each time you want to change a slide.
Organizing by Face
Face detection wouldn't seem to be a feature that professional photographers would care about. But as stock photographer Doug Menuez found out, Faces can be a huge help for anyone who has to manage large libraries of images.
Currently launching a small stock photography company, Menuez has used Aperture 3's Faces feature to solve one of his biggest logistical challenges: organizing model releases. For each image he wants to sell (and he has "hundreds of thousands of images"), Menuez needs to make sure the models in the photo have signed the proper paperwork. So he scanned all of his model releases and accompanying head shots, and used Faces to match releases to images.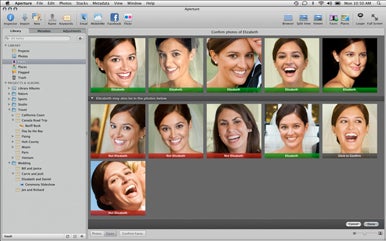 Sara France is also excited about being able to organize her images by face. It's not unusual for France to get a call from a old client looking for additional pictures of a specific person. By identifying one face an image, France can quickly find other photos with the same face from among thousands of unedited images.
Superpowered Syncing
The professionall testers we spoke to also praise Aperture 3 new tools for organizing images, including color coding, flagging, and local library syncing.
"I love the merging of libraries," says Menuez. With that feature, he says he could do a shoot in Miami and change and select the shots he wants to keep while on the plane home. Then, when he gets back, he could hand his laptop to his assistant, who could then merge that new library seamlessly with his main one.
Menuez also says that the new color labels and flags give him more flexibiity. A given image might need to look one way for a client but completely different for stock or a gallery show. Aperture 3 makes that way easier, by enabling him to make and track temporary edits to that one shot. "There are a lot of ways to slice and dice now."
Chase Jarvis praised the local library syncing, but thinks Apple could go even further. "I would be excited for Aperture to have the workgroup server capabilities built-in. Right now you're working locally on the machine. I would love to have it be like the FinalCut Pro server eventually."
Skipping Photoshop
Aperture's new Brushes features probably won't replace Photoshop for touching up fashion and advertising images. But for photographers like France and Menuez, who work on thousands of images at a time, these new retouching tools could be invaluable. Retouching in Aperture 3 is non-destructive, so any skin smoothing, dodging and burning, or adjustments to contrast, saturation, and polarizing won't alter the original file.
"It has pushed me to rethink my use of Photoshop, since the major things I use Photoshop for are now all in Aperture 3," says France. She has started touching up wedding photos in Aperture. "I love the control you have over the brushes and the adjustments," she says. "You have different opacities to brush it in, and there's a great edge awareness feature so that if you go over an edge, it keeps your adjustment in the lines."
Looking Forward
All of the photographers in Apple's beta group were encouraged to give feedback and make recommendations for ways to improve the program. "I was really excited to be able to give input and feedback to the engineers and the company," said Menuez. "There are some new features and tools that are mind-blowing, even to us."