I will be candid with you—for me, Macworld Expo is not a time for healthy living. Even without Apple here to ratchet up the stress, I eat unhealthy things, I stay up too late, I exercise not a whit. On my desk right now, I've got a can of soda and a fistful of Laffy Taffy—it is not a pretty sight.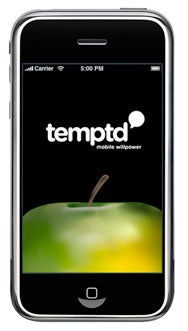 Fortunately, if I were to swing by Frog Design's booth in the Mobile Applications Showcase at this year's Expo, I could get a look at the beta of the company's forthcoming Temptd app. And maybe that would get me to straighten up and fly right.
Temptd aims to help you kick bad habits—food binges, cigarettes, you name at. When temptation strikes—and my, that Laffy Taffy looks awfully tasty—users can fire up the iPhone app or head over to Facebook where there will be a Web-based version of the application. Users who post that they're battling temptation can expect instant support from Temptd's community—positive reinforcement, helpful advice, and other crowd-sourced encouragement.
"When you apply social networks to health care, there are lots and lots of benefits there," said Frog Design director of product management Mike Goos as he demonstrated Temptd in action for me.
Every time you use Temptd, you rack up points for both Will Power (resisting temptation) and Karma (sending out boosts to other users, who can boost your Karma points further by recommending your feedback). Temptd gives you a weekly overview of your stats, which Goos believes can be a powerful motivator for helping people kick bad habits.
Temptd is in the late beta stages, though Frog Design shies away from giving a launch date. When it does debut, Temptd will be Frog Design's third offering on the App Store. The company already makes Postcard Express, a $2 app that allows you to turn your photos into geo-tagged postcards e-mailed from your iPhone or iPod touch, and tvChatter, which aggregates Twitter posts about your favorite television programs. That's a trio of pretty disparate offerings, although there's a common theme of connecting with others that runs through Frog Design's mobile efforts.
"Social media, social software are big," Goos said. "And we're experts in it, so we're leveraging it."
Frog Design may be a newcomer to the mobile apps market—it only begun developing for the iPhone last year—but it's been around for four decades as a design firm. Much of its design work has been on behalf of other companies and their products; in fact, Goos says, this year's Macworld Expo marks the first time Frog Design has had its own products on display at a trade show.