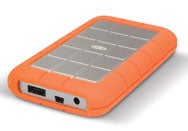 On Thursday, LaCie announced an unexpected upgrade to its Rugged line of hard drives with the LaCie Rugged eSATA. For the first time on a LaCie drive, you can have the speed of eSATA connectivity in an easy-to-transport portable drive.
The well-received earlier edition of the drive was a triple-interface device that offered FireWire 800, FireWire 400, and USB 2.0 connectivity. The new Rugged features the speed of eSATA and the universality of USB. At $159 for a 500GB model, the LaCie Rugged also looks to be competitively priced.
"We are thrilled to integrate power eSATA technology into our best-selling Rugged mobile hard drive," said LaCie's Anne-Sophie Marchand in a press release. "This solution brings dazzling transfer speeds to customers on the go, while still ensuring compatibility with standard eSATA and USB 2.0 connectors."
The Rugged eSATA achieves eSATA connectivity in two ways. First, it can be bus-powered when connected to an USB-eSATA combo port, also known as a "Power eSATA" port. While these ports may occur on late-model laptops, they are by no means common. Mac users will still likely need to purchase an eSATA or Power eSATA card to use with their Mac Pro with the drive. The drive is also compatible with standard eSATA ports when using the drive's USB power-sharing cable. While USB is universal, the drive's potency lies in its eSATA abilities and that means the Mac Pro community is likely the only slice of the Mac market to enjoy this product.
Still, when connected to a combination of eSATA and USB ports, LaCie boasts that the bus-powered unit can achieve transfer speeds of 90MBps. In a portable drive, that's especially impressive.
Like its triple interface cousin, the Rugged eSATA will be encased in a Neil Poulton-designed tough exterior enclosure, ensuring your data will be protected from bumps and bruises encountered during transit. The Rugged line of drives all feature shock absorbers and shock-resistant rubber bumper to better protect your data.