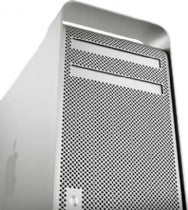 Apple may have skipped out on this year's Macworld Expo, but the company at least marked the first day of the annual Mac trade show with a release— Mac Pro Audio Update 1.0.
All right, so it's not Steve Jobs pulling a phone out of his pants pocket, I'll grant you. But for owners of the early 2009 Mac Pro models running Snow Leopard, the 1.64MB firmware update is probably a welcome release.
According to Apple's release notes, the update is aimed at Mac Pro models from early 2009—those are the ones released last March—running Mac OS X 10.6.2. The update reduces processor utilization during audio activities such as playing or recording music.
Mac Pro Audio Update 1.0 is available via OS X's Software Update feature or at the Support Downloads page on Apple's Website.