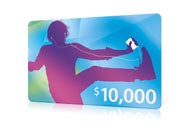 In what is becoming a tradition of sorts, Apple has launched a contest that will award the person who downloads the ten billionth song from the iTunes Store a $10,000 gift card redeemable at its popular online music and app store.
The company is holding the contest (arcane rules and all) to celebrate the upcoming milestone of 10 billion song downloads from the iTunes Store, which, based on a very empirical sampling of its published numbers, could happen as early as the end of February.
The contest is open (with some minor exceptions) to residents of all countries that have an iTunes store—presumably so that the winner will actually be able to spend the prize. It is also possible to enter without downloading a song from iTunes by submitting a form on the Apple Website—in that case, the winner would have to time the submission so that it comes right after the 9,999,999,999th download.
Despite the introduction of variable song pricing, iTunes keeps growing—Apple announced the download of the five billionth track in June 2008, indicating that that number is about to double in a little more than 18 months. Last September, the company also announced that more than two billion iPhone OS apps had been downloaded from the App Store.