If we made a breakdown of the amount of time Kevin Smith spent addressing various topics raised during his Thursday session at Macworld Expo, it would look something like this:
Apple: 2 minutes
Filmmaking: 30 minutes
Sex and genitalia: 90 minutes.
OK, maybe he didn't spend quite that much time talking about Apple, but these are humble estimations.
Kevin Smith, the popular director behind Clerks, Chasing Amy, and Dogma, sauntered onto the stage clad in an oversized hoodie and long, baggy shorts, and wasted no time in setting the tone for his event. The first thing out of his mouth was an impromptu masturbation joke, which he managed to tie in with a request to turn the lights up. It was then that I realized we were not in for a typical Q&A session.
Smith came to Expo with admittedly no preplanned material, hence the "Q&A" title for his event. He did make a few cracks at the lack of an Apple presence at the show, claiming that he was attending the event in order to introduce Steve Jobs—because after all, "Who would throw Macworld Expo without Steve Jobs?" This elicited chuckles, and a few pained moans from the audience.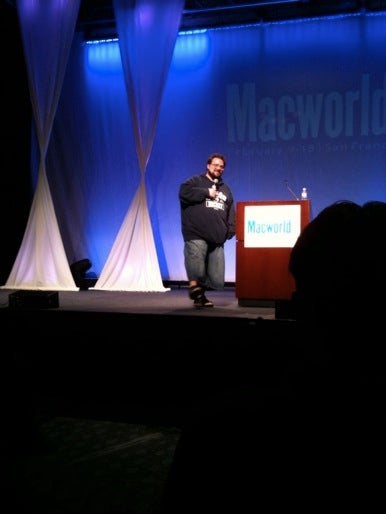 The rest of the event consisted of Smith answering questions from a line of people on each side of the audience floor who took turns asking him questions about everything from his opinion of Avatar and the Conan O'Brien-Jay Leno feud, to advice on success in the film industry, and what it was like working with Bruce Willis. One female audience member simply asked for a hug, which Smith happily provided.
To every question, Smith gave an exceedingly lengthy, tangential, raunchy, and humorous response, often finding an excuse to reference certain parts of the male and female anatomy, which I will not reprint. In fact, nearly everything that came out of Smith's mouth is unpublishable on a mainstream Website. The man has a unique gift of being able to lead every topic he touches on, no matter how seemingly unrelated, back to sex. You know the way the characters in Kevin Smith movies often talk? That's how he really talks.
While the questions he answered were almost all related to his life experience and his films, one audience member did manage to ask him a question about Apple: "What do you think about the iPad?", to which Smith jokingly replied "the i-What?" When asked if he thought the iPad would change filmmaking in any way, Smith responded that he's sure it will be used to kill somebody in a movie at some point, and that Steve Jobs will be displeased with this.
Other highlights include Smith being propositioned by an audience member, Smith giving words of hope—none of which I am allowed to print—to an audience member's 14 year-old son, and learning that Smith had erotic feelings for the lead female alien character in Avatar.
Tasteless? Yes. Completely unrelated to Apple? Pretty much. Immensely entertaining and sidesplittingly funny? Absolutely.