Avast, ye Mac gamer! On Thursday, master pirate Guybrush Threepwood and company officially invaded the Mac platform, as Telltale Games proved the rumors true by bringing its catalogue to the Mac.
All five episodes of Tales of Monkey Island are now available for download on Telltale's Website. Even better, it looks like you'll have a say in what Telltale next brings to Mac.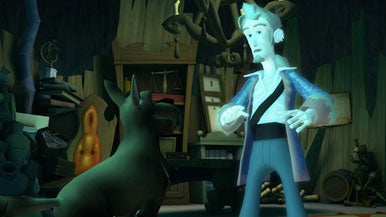 The Monkey Island series has been entertaining swashbuckling gamers for 20 years now and shows no sign of slowing down. Recounting the tales of the bumbling wannabe pirate Guybrush Threepwood and his battle against the ghost pirate LeChuck, the adventure series is always full of funny dialogue, absurd characters, and challenging puzzles. Each of the five episodes should take you about three to four hours to complete and cost $9 per chapter. The entire season is available for a measly $35 for download on Telltale's Website. Telltale further says that if you downloaded a PC copy of any of their games, you now own a Mac version as well. Huzzah!
While the Tales of Monkey Island games are already available, Telltale is letting the world decide what game it should release next for the Mac. As part of their "Revolution: Gaming for the Rest of Us" campaign, gamers can vote on whether Telltale should next port the Sam & Max series, the Strong Bad games, or Wallace & Gromit's Grand Adventures.
If you're at Macworld Expo this week, you can vote in person or go to Telltale's Website and cast your vote. All three episodic series are rife with comedy and adventure with Telltale's fantastic storytelling behind them.
The Sam & Max series recounts the absurdist tales of private detectives/hired guns Sam & Max: One's a dog in a trench coat, the other is a homicidal bunny creature. In season one, they take on the Moon, Abe Lincoln, and even more bizarre adventures.
Meanwhile, the Strong Bad games focus on the cast of characters from the popular Website Homestarrunner.com. These surreal and often silly games offer a unique look at a strange world populated by boxing glove-wearing miscreants, dragons named Trogdor, and the most quotable weirdos this side of Strong Badia.
Finally, Wallace and Gromit's Grand Adventures feature Oscar-winning writer/director Nick Park's claymation creations as they are encounter all sorts of trouble in their quaint English neighborhood. This series follows the duo's confrontation with gigantic bees, an ornery golfer, and some shady philanthropists.
Hopefully Telltale ports its entire catalogue soon, because the company is widely regarded as some of the best adventure game developers out there. The combination of humor and fun that runs through all the games make them approachable to gamers of all ages and backgrounds. Whether you're a fan of ghost pirates, homicidal bunnies, dragons or soft-spoken dogs, Telltale has a game for you.
Update 2/13/09:
After talking to Founder and Chief Technology Officer Kevin Bruner, it seems that Telltale "plans to do simultaneous launches" in the future. That means when Telltale comes out with a new game, Mac users won't be stuck waiting months for their own version. Though it remains to be seen whether Telltale can indeed make good on such a bold statement, their appearance at Macworld indicates they are genuine in their interest in developing for the Mac. Bruner gushed about developing and playing on the Mac platform, saying that he and his engineers found that their games "run best by far on Apple hardware." There is also a rumor of a new game due out in a few months from Telltale, though Bruner was mum on the title.