Should you find yourself in Vancouver at any point during the next 16 days, an iPhone or iPod touch would be an ideal device to have in your pocket. After all, if you're attending something as massive as the Winter Olympics, you'll need the tools to navigate a strange city, find places to eat, and track down sights worth seeing. More important, you'll also want to get to your ticketed events and maybe even know the results of other events happening throughout the area.
Fortunately, the App Store offers iPhone and iPod touch apps built specifically for the Games. A pair of apps stand out from a crowded field of would-be Winter Olympics guides.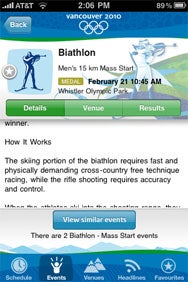 2010Guide from Vancouver 2010 Olympic and Paralympic Games is not only free, it's the official mobile spectator guide to the Winter Games. So it would almost be OK just to stop right here.
2010Guide has every piece of information you could want to know about going to the Olympics as a spectator, from the daily schedule of sporting and cultural events (helpfully broken out between City and Whistler) to details about every event and venue. The app even includes explanations of how each sport is played, so you won't embarrass yourself in front of the rabid curling fans.
Another helpful component is transit information for getting to each venue; with a couple of taps, you can get into Google Maps to give you directions. For anyone in Vancouver, 2010Guide is the must-have download of these Olympics. Even though it mimics the official Website in design, this app provides useful information in an easily navigable format.
And don't forget to give it a shake!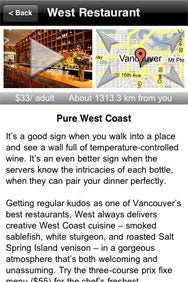 What the official guide doesn't provide, however, is any of the general travel information one needs in unfamiliar city. That's where Vancouver 2010 Winter Olympics from Sutro Media comes in. With listings for restaurants and bars, along with general information about Olympic events, this is more of a traditional travel guide.
Vancouver 2010 Winter Olympics contains good information, but its listings are comparatively sparse given the outstanding food offerings in Vancouver right now. There's a slideshow as a separate feature, but I can't really figure out why you'd use it on it's own.
At $3, the price isn't outrageous but there are many Websites offering information about food and drink in Vancouver that you could access for free and the map that's available in each listing is just a map—you can't use any of the usual mapping features to give you directions, you can just zoom in and out. Also, there's a weird navigation choice: When you scroll up or down within a listing, you can get flipped back to the previous or next one in the list. It looks like you lost your place, when you just wanted to get to the bottom of the screen.
[Mary-Lynn Bragg is one of those rabid curling fans.]