For anyone who's ever felt left in the dark by a hard drive that's failed for no apparent reason, data-recovery services company DriveSavers offers some mobile peace of mind. The company will update its free DriveSaver app for the iPhone and iPod touch that can simulate solid-state drive failures.
The Crash a Hard Drive feature educates users about how hard drives can crash and what you can do to ensure safe data storage. The new addition will now add a solid-state drive to the mobile app's simulations of real-world drive failures.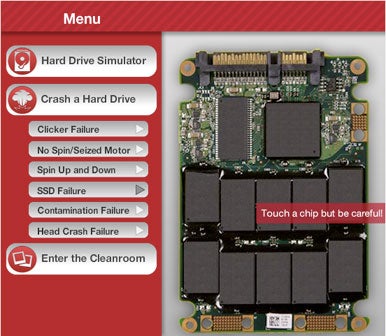 DriveSavers is rolling out the new feature in the next version of its mobile app, which is awaiting Apple's approval. Until that happens—DriveSavers anticipates it will be released within a week—the company is offering a Flash-based version of DriveSaver that includes the solid-state drive simulation.
If you're at Macworld Expo, you can see demonstrations of the app first-hand at both the Mobile Applications Showcase (Booth #1366) and DriveSavers' booth (#1448).