Social networking and user sharing are widespread across the Internet. So why shouldn't peripherals follow suit? Doxie, which was first introduced back in August, has now made its official debut, arriving at this week's Macworld Expo. Portable, cute (as in a pink heart embellishing the power button), and simple, this scanner can scan images directly to the online cloud.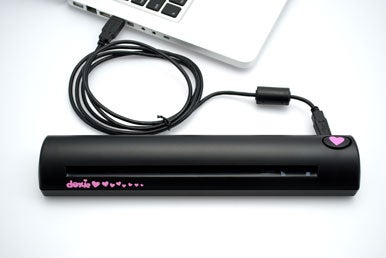 Or to put it another way, other than scanning images to default applications like iPhoto and Acrobat Reader through a USB connection, Doxie can fully integrate with a multitude of Web apps such as Picasa, Flickr, Google Docs, and Twitter. That allows users to share documents, drawings, schoolwork (my personal favorite), and photos online. Doxie maker Apparent offers a full list of apps that the scanner works with on its Website.
The Doxie scanner runs on Mac OS X 10.5 or later, can save scanned documents in a PDF, JPEG, or PNG file format, and can scan colored images up to 600 dpi (24-bit) and grayscale images at 200 dpi (8-bit). The $129 scanner is powered by a USB 2.0 connection and weighs 10.9 ounces. Along with the driver and cable, it also comes with a leatherette carrying case and six skins to customize your Doxie's look.
Doxie is available for pre-order and begins shipping out on March 30.