I'm a browser addict. There, I've said it. I'd be embarrassed to tell you exactly how many browsers are on my machine, but it's in the double-digits. If there were a Browsers Anonymous, I should probably be a charter member. But really, I love trying new browsers, I love seeing the new features, and the battle between these browsers is nothing but good news for users in the long run.
The recent release of the updated Google Chrome browser is the latest salvo in this battle. Google's release page states that this release focuses on providing Mac users a "snappy, safe, and simple browsing experience." Having had a chance to play with it for a couple hours on Thursday and Friday, I'd say that's a nice summary, but it shortchanges some of the nice new features in this beta.
On the basics side, Chrome finally has a bookmark manager. At this point, it's fairly basic, but it gets the job done—you can add folders, search your bookmarks and rename and change the URL for a bookmark. In other words, it's infinitely better than the prior system, which was nothing at all.
More interesting to those of you with multiple Macs is the ability to sync bookmarks across those machines—and even to Windows and Linux machines as well. Chrome does this via a Google account, and includes a sign-up button in case you don't already have an account. Unfortunately, I can't test this feature at the moment, as I'm at Macworld Expo with only one machine. (I use the Xmarks extension to do this with Firefox.)
This release of Chrome includes support for extensions, which let you access any of 2,200 (and growing) add-ons that change how Chrome works. As a long-time Firefox user, I'm a firm believer in extensions, because they allow you to do things that the browser developer didn't include in the program—Xmarks, as noted above, is an extension for Firefox that makes sure my bookmarks are the same on all my Macs.
Chrome makes extension installation, use, and removal about as easy as it can be. Start on the Google Chrome Extensions page, which you can browse by popularity, date added, rating, or those featured by Google. Once you choose an extension, click an install button, and—in a very nice change from Firefox—it installs and activates without a browser restart. It's also amazingly fast, as you can see in this video.
So which extensions would I recommend? I really like the Tab Menu, which makes it easy to work with tons of tabs; FlashBlock, which turns Flash elements into clickable buttons (there's another FlashBlock, too); RemindMe, a simple reminder tool that will sync reminders across all your machines; and The Camelizer, which provides price history for products on certain shopping sites, including Amazon and NewEgg.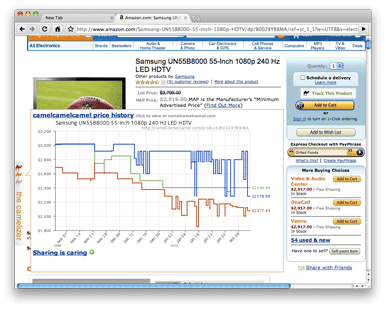 The Camelizer is really interesting. View a product on one of the supported sites, and you'll see a small sidebar on the page; click it, and a slide-out graph appears, showing pricing trends over time for the site you're on, third party providers, and used items (if available). You can click the graph to be taken to the source site, which has a ton of additional detail on pricing trends.
You manage your installed extensions on the (surprise!) Extensions page, where each extension has links to disable or uninstall it (again, no restart of Chrome is required), and and Options button, if the extension has any options. Overall, the implementation of extensions in Chrome is very well done, and there are already a huge number of them available.
Another thing I like in this second beta is the Task Manager, available in the View -> Developer menu. As I noted in my original writeup, Google runs each tab and window as a separate process—meaning that if one tab or window has an issue with a plug-in or a badly-written page and crashes, your entire browser won't crash. However, this can also require quite a bit of RAM, especially if you open tons of tabs and windows.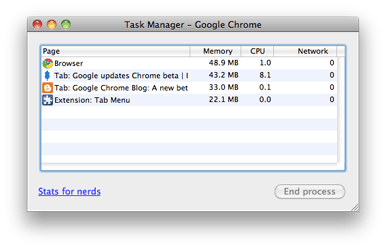 The Task Manager shows you the memory usage for the browser, each open window or tab, and each plug-in and extension. It also shows CPU usage and network activity, and includes a button to end a given process. Using the built-in Task Manager makes it easier to keep an eye on Chrome's memory consumption.
Overall, I've been very impressed with this second beta. I've been running this second beta as my primary browser since its release, and I've yet to experience a crash—despite playing with a number of extensions. It launches and loads pages quickly, and has a user interface that's well designed to not interfere with the browsing experience. If you haven't tried Chrome yet, it's now reached a stage where I feel comfortable advising that it's worth trying out. It is still beta, though, so keep that in mind if you run into any issues.