Joby, maker of those alien-looking, bendy camera tripods, has announced additions to its Gorillamobile line at the Macworld Expo. There a flexible set of legs for the iPod Touch, an updated iPhone camera app, and a new LED flashlight.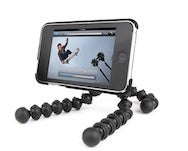 The company has been building on its success of its Gorillapods, which provide firm, portable footing for cameras in all kinds of situations. Joby already offers the Gorillamobile for the iPhone, and the latest version provides the same distinctive mount for the iPod touch so you can position it on any surface for viewing (of course, since the iPod touch doesn't have a camera, you won't need it to take a steady shot.).
The Gorillamobile includes a secure locking ring to keep the device in place, more than two dozen leg joints to provide maximum flexibility, and rubberized feet to maintain a good grip. As an added benefit, you get a slim, soft case for your iPod. The whole package weighs less than four and a half ounces and will be available at the end of March for $40.
The Gorillacam iPhone app has been updated to include a 4x digital zoom, anti-shake, and a tap-to-focus tool. (The latter feature only works only on the iPhone 3GS.) Gorillacam 1.1, like its predecessor, adds some welcome features to the camera app that comes with your iPhone. Most valuable is the self-timer; you can also take time-lapse pictures and shoot continuous images. The app is free and available now in the App Store.
Joby touts the Gorillatorch as a hands-free flashlight that comes in blue, orange, yellow, and gray. It has the same flexible legs as the tripods, so you can hang it; there are also magnetic feet if you want to stick the light to a metallic surface. The Gorillatorch has an output of 65 lumens and includes a dimmer switch. You'll need three AA batteries to power it. The flashlight isn't cheap at $30, but it will probably wow people.