Editor's Note: The following article is reprinted from Macworld UK. Visit Macworld UK's blog page for the latest Mac news from across the Atlantic.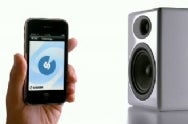 Shazam, billed as the world's leading mobile music discovery provider, has announced updates for its Shazam Encore and ShazamRed iPhone applications.
The update for the applications, which allow users to identify tracks being played, includes a link up with the popular Last.fm online music community.
With Last.fm, Shazam users can now create their own radio stations that include additional songs by tagged artist as well as songs from other artists with similar styles and genres.
When a song is tagged, an icon will appear in the Tag Results page which takes the user directly to their radio station explains Shazam.
Shazam users will need to downloaded the Last.fm radio application in order to access this feature and must also be in the geographic region where Last.fm is accessible.
The update also promises comprehensive tour and ticket information for tagged artists. When a song is tagged, an icon will be displayed that, when tapped, provides tour information for that band or artist.
Shazam users can now find out where their favourite tagged artists are performing both locally, with automated geo-location functionality, and in other cities around the world with access to 60 sources covering 140 countries. The application also offers recommendations for local gigs scheduled for similar artists.
The update also adds direct access to the Shazam Blog which features original insight, reviews and comments on current trends and events in music.
Available from the Apple iTunes App Store, Shazam Encore and ShazamRed cost $5 each and require the iPhone 3.0 Software Update or later.
Introduced last November, for each ShazamRed application purchased, 20 percent of the price is contributed to the global fund to fight AIDS, Tuberculosis and Malaria.
(Red)'s primary objective is to engage the private sector in raising awareness and funds, to help eliminate AIDS in Africa. Companies whose products take on the (Product)Red mark contribute a significant percentage of the sales or portion of the profits from that product to finance AIDS programs in Africa, with an emphasis on the health of women and children.
Shazam was the first mobile application to link up with (Red) and joins several iconic brands including Apple, American Express, Converse, Dell, Emporio Armani, Gap, Hallmark and Starbucks.
You can read a recent Macworld UK Q&A with Shazam's CEO, Andrew Fisher.