Document scanning made a big impression on the show floor at Macworld Expo. Many companies demonstrated scanning solutions that involved hardware scanners, software to capture the documents, document management software, and ways to share your scans. Here are a few scanning products that I saw on the show floor.
Fujitsu ScanSnap S1300
There were big crowds at the booth 853 yesterday, where Fujitsu showed off its most recent document scanner, the just-released portable ScanSnap S1300. The USB-powered S1300 ($295) supports both Mac and Windows. The S1300 does not include Adobe Acrobat Professional as Mac-specific ScanSnap models have in the past.
One of the coolest features of the S1300 was its ability highlight keywords; simply use a highlighter pen on a black and white document to mark up, say, a client name, phone number or serial number, and scan the document as you normally would. The ScanSnap software automatically turns the highlighted text into searchable keywords.
Mindtouch, Evernote, and Mariner
A testament to the popularity of Fujitsu's ScanSnap line is the number of third-party companies developing software that integrate with Fujitsu's scanners. Sharing the Fujitsu booth were MindTouch, Evernote and Mariner Software.
I spoke to Mariner's Corey Johnson about their digital filing software, Paperless. For $49, Paperless organizes your receipts, warranties, and other materials using its built-in OCR and a SQL Lite database. The software makes intelligent guesses to find things like the total, the business name and date.
Though ScanSnap is not TWAIN compliant, Mariner worked hard to allow you to import scans into their application, rather that pushing them from ScanSnap to a chosen application. You can even buy the ScanSnap hardware from Mariner's site.
Rion Morgenstern showed off MindTouch, a collaborative business application that allows people to upload scans into a cloud-based environment to process, organize and share documents, notes, and information with others. The Web-based application includes some basic project management tools and looks pretty cool. Check out the Washington Post's whorunsgov.com for an idea of how people have put MindTouch to work.
Andrew Sinkov of Evernote showed ways that you can scan important info once and have it available and searchable on a phone, on the Web, and on desktops computers. The premium version of Evernote includes OCR processing of your scanned images. Fujitsu has released a ScanSnap to Evernote profile for Windows and is hoping to have a Mac version sometime soon.
Iris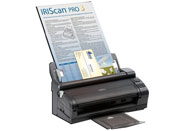 Iris was at Expo, showing its new Iriscan Pro Office 3, a mobile scanner that can convert into a desktop model with its included docking station. The $399 device scans 15 pages per minute, duplex scans and when attached to the docking station has a 20-page automatic document feeder.
Also on display were the IrisPen 6 and the very portable Iriscan 2.
iVina BulletScan
iVina made its first appearance at Macworld Expo. The company introduced its line of BulletScan scanners, priced from $349 for its S300M model to $1495 for its F600M departmental scanner. Murray L. Dennis of iVina, says the company plans on introducing its Windows products next week, with BulletScan for Mac products coming soon thereafter.
[James Galbraith is Macworld's lab director.]