We've already looked at mobile guides to the Winter Olympics aimed at travelers headed to Vancouver for the big event. But what if you're planning on watching the 2010 Winter Olympics from the comfort (and warmth) of your couch, a free app from AT&T has got you covered.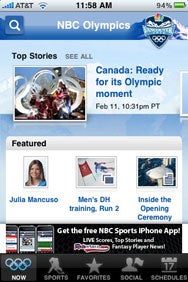 NBC Olympics on AT&T is geared toward the stay-at-home spectator rather than someone actually attending the Games, but it makes for a nice companion to the official 2010Guide. In addition to the standard schedules, standings, and news, NBC Olympics adds the power of NBC's content development in compiling video content of the US Olympic Team athletes, mostly explaining their sport, and more photo content—in some cases from their personal photo collections of the athletes. This is the same content found on NBC's Website, and I expect that you'll see some of these features during the networks television broadcasts as well.
There is advertising along the bottom of the screen and the location of the ads makes it easy to accidentally click them—the price to pay for free apps I suppose.
Two of the most useful features are found in the schedules section. You can set up an alert for the results of medal events in each sport, a useful feature if you actually need to leave your couch for the next two weeks. Also easily accessible here is the daily NBC broadcast schedules so you know which of the many NBC-owned channels to tune into to catch your sport.
The app also offers news, results, and medal counts, which figure to be updated more frequently now that the Games are underway.
[Mary-Lynn Bragg plans on watching as much curling as possible over the next two weeks.]