John Gruber, the Daring Fireball himself, stowed his keyboard and took a Macworld Expo stage on Friday evening to spell out the top 10 problems plaguing Apple. Gruber's gripes ranged from competition, to Steve Jobs, and even software about boxes.
The problems Gruber listed may not have blown any minds of avid Daring Fireball readers. But in line with the true luxury of seeing people, their body language, and quirks in real life at a conference, it was fun to watch Gruber bring his words to life with the expressive intonation of an intelligent and enthusiastic Apple pundit.
Gruber listed Apple's problems in no particular order, but began with Steve Jobs. Even Apple's detractors are very aware of how much Apple's success is directly attributed to Jobs' vision and death-grip on shaping successful products. But what happens to Apple when the inevitable happens to Jobs? Will the company flounder again like it did in the Jobs-less '80s? Or could Pixar's incredible and repetitive success, due largely to its efficient management structure, be in place to keep Apple on course for years to come? We'll have to wait and see on that one.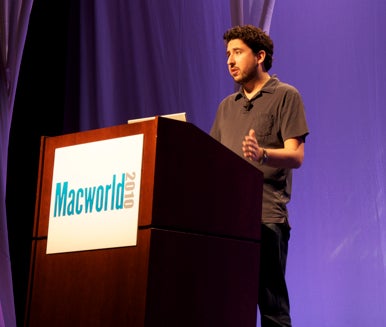 The rest of Gruber's talk dove into Apple's other challenges like MobileMe's struggling and sometimes ambiguous purpose, as well as Apple's dependence on industries and other companies (such as AT&T and the film studios) that are either failing to do their job or mired in archaic business models. He also painted the success of both Mac OS X and iPhone OS as a unique victory so far for Apple, as it has never really managed to have two separate-but-thriving computing platforms at once.
Finally, Gruber even managed to call Mac OS X's About box into question. Years ago, before Jobs returned to Apple, the About box displayed more than just a copyright and a pretty icon; it credited the engineers responsible for giving birth to a useful tool. According to myth, when Jobs returned, he banned engineer names from these boxes in an effort to stop other companies from easily poaching employees. Gruber wants to see more done with the About box again. At least, he argued, engineers should get credit for their work because—and I can't help but agree—"artists should get to sign their work."