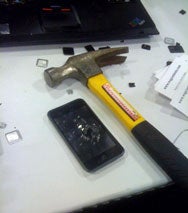 If you wandered over to the Worth Ave. Group at Macworld Expo this week, you may have noticed the periodic sound of hammering—or, rather, the sound of hammer on expensive gadgets. The Worth Ave. Group offers laptop and iPhone insurance and to demonstrate the kind of "accidents" you might encounter, they invited Macworld Expo attendees to take a hammer to some of the laptops, iPod touches, and iPhones they have handy.
As a man who enjoys destruction more than others, I had to talk to these gentlemen. I had so many questions. What's your favorite part of breaking stuff? What kind of hammer do you use? What are your feelings on fire?
But they were all business. Worth Ave. Group claims to be the only iPhone insurance company around. They'll cover stuff that won't be handled by your typical warranty from Apple. Whether your iPhone has been dropped, stolen, or damaged by liquid, you are covered. The annual premiums are pretty reasonable too, starting at $55 for 3G/8GB or earlier models and going up to $79 for 3GS/32GB models. Simply put, if you drop your iPhone in a toilet, they'll buy you a new one. Your iPhone falls out of your pocket when climbing out of the car, they'll buy you a new one. Somehow I doubt they'll cover it if my phone "accidentally" meets with a flamethrower, however.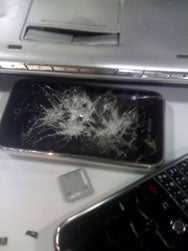 While the hammer smashing served as a gimmick, I'm glad I got to drop by and see the booth. They're pretty comprehensive as far as insurance companies go and seem to know their audience well. In addition to iPhone, iPod touches, and laptops, they also cover cameras, game systems, and cell phones.