MixMeister Technology has released MixMeister Express 7. The audio program is designed for the inexperienced who want to make professional-sounding music mixes with a song library.
According to the company, MixMeister Express 7 has automatic beat matching, which allows for seamless song transitions. If beat matching is old hat for you, the software has manual controls to let you do your own work. You can also tweak bass and treble settings.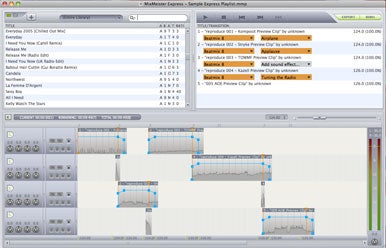 MixMeister Express 7 uses non-destructive editing, so your original audio files are always intact. You can burn your mixes to a CD through the software.
The software is compatible with iTunes libraries, and supported audio formats are MP3, WMA, and WAV—AAC is not listed as a supported file type. Supported playlist types are MMP and M3U.
MixMeister Express 7 is the first version of this music tool made for the Mac. It requires OS 10.5 or later and runs only on Intel processors. The software is $70 and available as a download.