Hewlett-Packard's first smartbook, the Compaq AirLife 100, announced on Friday, could be a rival to Apple's iPad as the two companies aim to attract buyers looking for netbook alternatives, analysts said.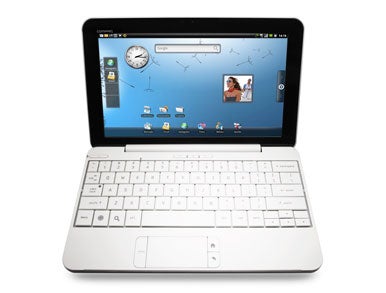 AirLife is a hybrid laptop that combines the hardware and software usually found in a smartphone with the design of a netbook. It is as portable as a netbook but offers longer battery life of up to 12 hours. Apple will soon start shipping the iPad tablet, a handheld device designed to let users browse the Internet, play games, read e-books and view video content.
Though some features differ, the iPad and AirLife share several characteristics, including simplified software interfaces, similarly sized touch-screen displays, and an emphasis on making it quick and easy to access online content. Both devices also have Arm processors, while most netbooks use Intel processors.
The AirLife includes a 10.1-inch touch screen and comes with Wi-Fi b/g or optional 3G wireless broadband connectivity. The device weighs around 2.2 pounds (1 kilogram) and is powered by a Qualcomm Snapdragon processor running at 1GHz. It includes 16GB of internal storage, 512MB of RAM and 512MB of flash storage. It also includes an SD card slot for external storage.
By comparison, the iPad is powered by an Apple A4 chip (based on an Arm design) running at 1GHz. It comes with storage capacities of 16GB, 32GB or 64GB. It is about half-an-inch thick, weighs 1.5 pounds and has a 9.7-inch touch-screen display. The device comes with a software-based, on-screen keyboard. Wireless features include 802.11n Wi-Fi, optional 3G mobile broadband and Bluetooth.
Hewlett-Packard plans to initially distribute the AirLife through Telefonica, which is in Europe and Latin America, said Mike Hockey, an HP spokesman. Hockey said there were no plans to distribute the product in the U.S. and declined comment on distribution in other regions including Asia-Pacific and Japan. HP did not provide a specific date for when the AirLife will become available, saying only that it will be out in the spring.
The lack of distribution in the U.S. and Asia-Pacific could give the advantage to Apple, which will make its product available worldwide in roughly 50 days. Despite being the world's largest PC maker, HP is being cautious with the AirLife, said Jay Chou, a research analyst at IDC. The limited availability through one carrier means it is testing the product before rolling it out worldwide.
"Western Europe is the biggest market for [telecom] operators to bundle netbooks through. It seems like a likely place to test out the waters with regards to smartbooks," Chou said. Netbook shipments have grown in Europe as more telecom operators bundle low-cost laptops with wireless contracts, Chou said.
Apple also has an advantage with the familiar iPhone software interface in the iPad that users may find easier to adapt to, said Ezra Gottheil, an analyst at Technology Business Research.
Smartbooks have a folding design, like netbooks, and use the Linux operating system. Linux has seen slower adoption rates on netbooks compared to Windows, partly because fewer applications are available and because of hardware compatibility issues.
However, HP's AirLife will use Google's Linux-based Android OS, which has some cache and has found wider acceptance in the mobile-phone community. Android's growing popularity could help lift the smartbook segment, Chou said.
Some multimedia capabilities and hardware features could also drive buying decisions, Gottheil said. Each device offers its own multimedia advantages—the iPad supports 720p high-definition video, but smartbooks support Flash content, which the iPad does not.
"We don't know how much that will handicap the iPad in the market," Gottheil said.
The lack of a keyboard could affect purchasing decisions for the iPad, but it may be an advantage if the device is used as a multimedia device, for example as a video device on airplanes, Gottheil said.
Price is also a determining factor. The iPad starts at $499. It can be bought as a standalone product, though users are likely to want a data plan as well. HP did not provide pricing information for the AirLife, which is tied to mobile contracts that will also add to the purchase price.